Are you an adventure enthusiast seeking games that explore imaginative worlds while navigating difficult obstacles? Wish to hone your gaming skills, such as precise timing, quick reflexes, and strategic thinking? If yes, a 3D platformer like u.r.Cube would be the right choice.
Picture this: You're engrossed in a game, navigating challenging obstacles, adrenaline pumping through your veins. Just as you're about to finish the level, an intrusive ad pops up, disrupting your concentration for the nth time. Frustrating, right? But fret not; here's a game to rescue you. Say hello to u.r.Cube, an ad-free app that promises an uninterrupted gaming adventure like no other.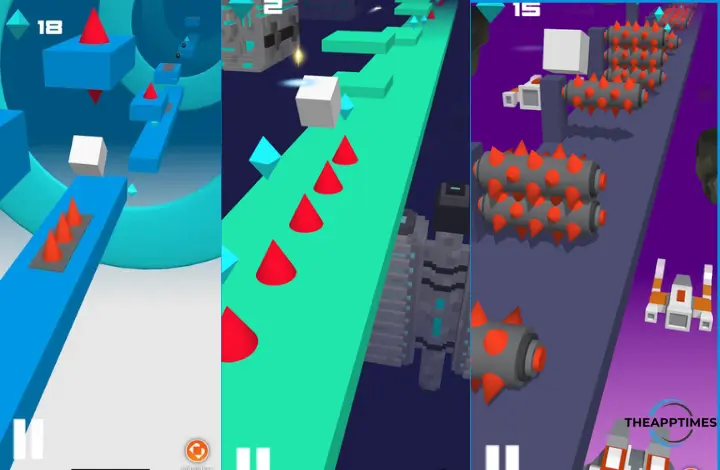 Developed by David Laprad, this visually stunning platformer challenges you to navigate obstacles in a quest for the highest score. Download the app, click on the installed icon and begin the adventure. It's that simple. No tedious sign-ups or complicated user interfaces. u.r.Cube prioritizes fun and thrill & immerses you in its stunning 3D landscapes and navigate obstacles as you advance through levels.
The gameplay and maneuvers are refreshingly straightforward too.
Single tap to jump over obstacles
Double tap for longer and daring jumps
Delay the second tap to navigate gaps with grace
Drop and jump to collect diamonds in empty spaces
Most importantly, avoid obstacles and empty spaces to keep your momentum and progress intact
The aim (to collect 30 diamonds) and gameplay may sound easy-peasy. But don't be deceived, especially if you're not used to such games. That's where u.r.Cube's tutorial proves useful. It is your trusty companion designed to teach you the essentials to get past difficult game sections. A recent study states that 73% of gamers believe that game app tutorials are extremely helpful when it comes to learning a new game. Do you too?
Additionally, electrifying background music plays a pivotal role in creating an intense experience. With Zasplat, u.r.Cube provides captivating music that enhances the play. However, if you prefer a quiet session or wish to enjoy your soundtrack, just turn it off. The app allows you to tailor the audio experience according to your liking.
Furthermore, the app features several worlds, from the dystopian Derez and ethereal Space Angels to the high-octane Adrenaline Vault and more. Collect 30 diamonds in a world to advance to the next. However, what sets the excitement factor apart is that every time you lose a life and replay or revisit a level, the setting, obstacle positions, barriers, and gaps will vary. It ensures that no two games are the same. Each attempt brings fresh challenges and surprises.
And once you get comfortable with the game settings and maneuvers, test your mettle against other players and prove your mastery via the Score Challenge. Before you know it, you might rank on the leaderboard.
In conclusion, u.r.Cube delivers a one-of-a-kind electrifying platforming experience. With its ever-changing levels, challenging maneuvers, and the allure of the Score Challenge, the excitement never fades. You will also be able to fully immerse yourself in the action with the ad-free environment. Download u.r.Cube now and embark on an epic adventure. The cube awaits—conquer it today!!