Locks and keys are going to become a thing of the past. Now smart locks are the most convenient ways to keep your home safe and secure. And they can be controlled right from your phone. If you're planning to make your home smart, then these top smart locks maybe just what you need for home security.
One of the annoying things about locks is that you need keys to unlock them. And keys have this nasty tendency to disappear at the most inappropriate times. Haven't you ever found yourself locked out of your house on more than one occasion? It happens all the time. Unless you own something like the Tile or Nokia Treasure Tag to keep track of stuff.
But why bother with all that when you can simply use your phone to automate your home security. Smart Locks today come with Bluetooth and Wi-Fi connectivity, alarms, a code system, easy installation and plenty of connectivity options so you can easily secure your home.
Top Smart Locks for Your Home
Before you decide on a smart lock, you need to check all its features to make sure it meets all your requirements and suits your budget. Here is a look at some of the best smart locks in the market you can choose from, should you decide to automate your home security.
August Smart Lock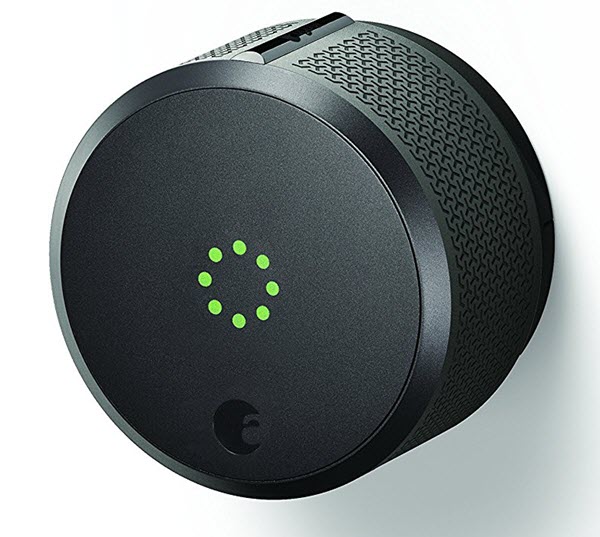 August Home believes that the door to your home shouldn't just keep the bad guys out. It should also let the right people in, at the right times, on the right terms, and always under your control.
The August Smart Lock is sleek and futuristic looking and is available in Dark Grey, Silver and White shades. There are 3 different variants of the lock depending on the features you need. All 3 variants let you use your phone as your key, auto unlocks the door when you arrive or leave and can tell if your door is truly closed.
The 3rd generation smart lock works with Apple's HomeKit & Siri with Z-Wave Plus support. The most advanced variant works with Apple's HomeKit & Siri, Amazon's Echo & Alexa, and Google Home & Assistant. It also supports Z-Wave Plus. It can also remotely lock your door.
The good thing about this smart lock is that you can keep your existing deadbolt while still enabling keyless entry. If you want to let in family members or guests, you can create virtual keys for them and keep tabs on who is coming and going.
The August Smart Lock is fully compatible with the iPhone and iPad.
Kwikset Kevo Smart Lock 2nd Gen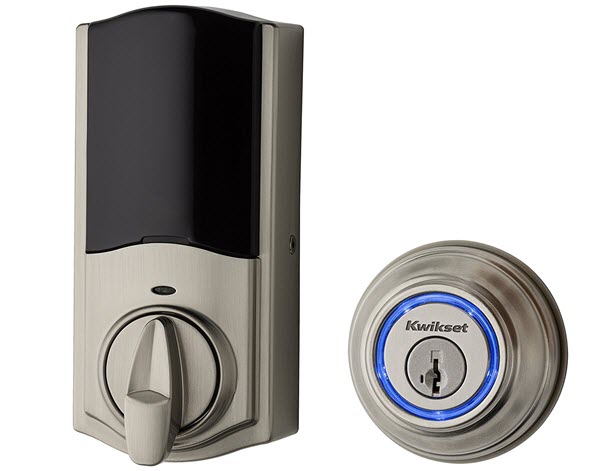 The Kwikset Kevo Smart Lock (2nd Gen) is another popular smart lock that is powered by your smartphone and Bluetooth. Kevo is capable of detecting whether you and your phone are inside or outside of your home before unlocking. If your phone is inside the house, Kevo will not unlock on touch. If your phone is outside, it will recognize your approach and open when touched.
This smart lock is versatile in how it works. Should your iPhone battery die on you (doesn't it always when it matters), you can still use the Kevo fob or a standard key to unlock your door. You can also sign into the Kevo app on another smartphone and unlock your door. The Kevo app also makes it easy to share keys with family members or guests staying with you.
You can replace your existing deadbolt with the Kwikset Kevo Smart Lock or you can choose a variant that fits into your existing deadbolt. Kevo is available on iOS and select Android devices so check before you buy. Smart Home compatibility support is available for Amazon Alexa, Ring Doorbell, Skybell, Nest Learning Thermostat, select Honeywell Thermostats, Android Wear and IFTTT.
The Kwikset Kevo Smart Lock comes in Polished Brass, Satin Nickel and Venetian Bronze for $169.95.
Visit the official website or Amazon to order this smart lock.
Schlage Connect Century Touchscreen Deadbolt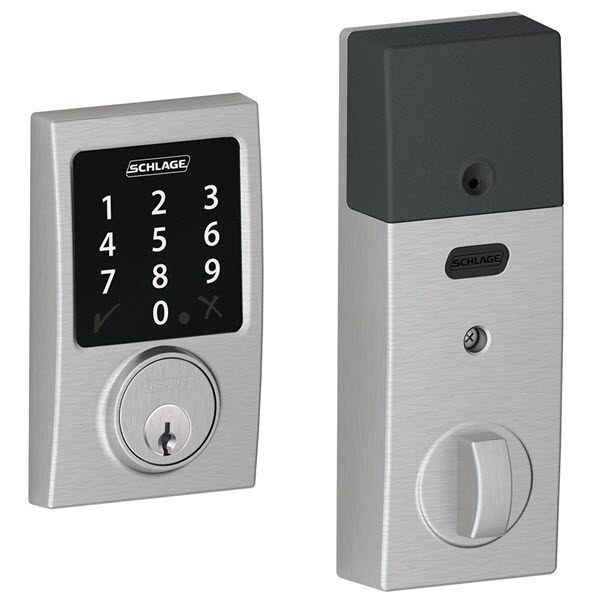 If security is a big concern for you, consider the Schlage Connect Century Touchscreen Deadbolt, which meets ANSI Grade 1 security standards. It senses the slightest vibrations or movement of the door and immediately alerts you when significant force pushes against the door.
This smart lock also gives you keyless access with simple codes to share with friends and family for their entry. Z-Wave technology lets you connect it to your home automation system so you can lock or unlock your door remotely via the web or your smartphone. You'll need to pick up a Z-wave controller/hub separately for this to work.
Connect Century is compatible with Amazon Alexa, Samsung SmartThings, Iris, Wink, and Nexia. This variant does not work with Apple HomeKit though. If you want HomeKit compatibility, you can consider the Schlage Sense.
You can pick up one of these smart locks for about $185 on Amazon.
Yale Assure Lock SL with iM1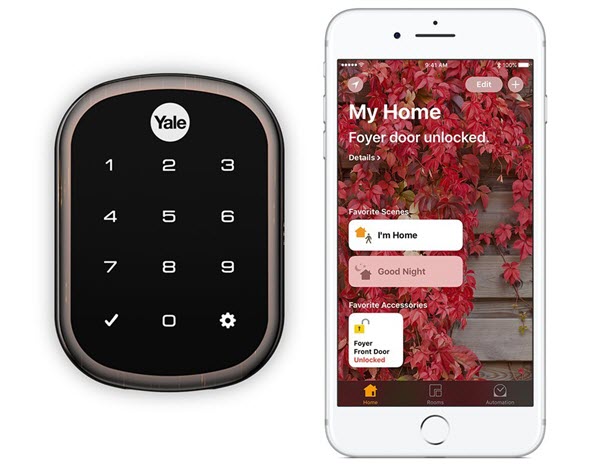 The Yale Assure Lock SL is a sleek, modern touchscreen deadbolt that lets you unlock the door using pin codes. If you have an iPhone, you can lock and unlock the door remotely using Siri. If you have an Apple TV (4th gen or later) or an iPad with iOS 10.3 or later, you can lock and unlock the door remotely from anywhere using pin codes.
And, if you don't have a phone you can lock and unlock the door using the backlit touchscreen keypad and a 4-8 digit pin code. The Yale Secure app lets you manage up to 25 unique codes. If you had a phone but the batteries died on you, you can make use of the 9V terminal under the keypad for emergency charging.
The Assure Lock SL was voted as the #1 smart lock for 2017 and if you're thinking of getting one of these, you'll have to cough up over $250 for it.
Are you planning to automate your home security? Which smart lock do you prefer and why. We'd love to hear your thoughts.
For your smart home, you can also consider placing some smart trash cans to protect your home from getting dirty.