Phillips Hue is a brilliant smart lighting system that can transform any drab room or space into something special. The company's smart lighting range is grand but their latest new lights are taking it to a new level. Coming this September, you can pick up gradient light strips for your PC, uniquely designed lightbulbs for your modern home, filament bulbs and more to complement your home decor and create the perfect ambiance. Here's a closer look at the Philips Hue New Smart Home Accessories – Fall 2022
Philips Hue Smart Home Lights – Fall 2022
Play Gradient Lightstrip for PC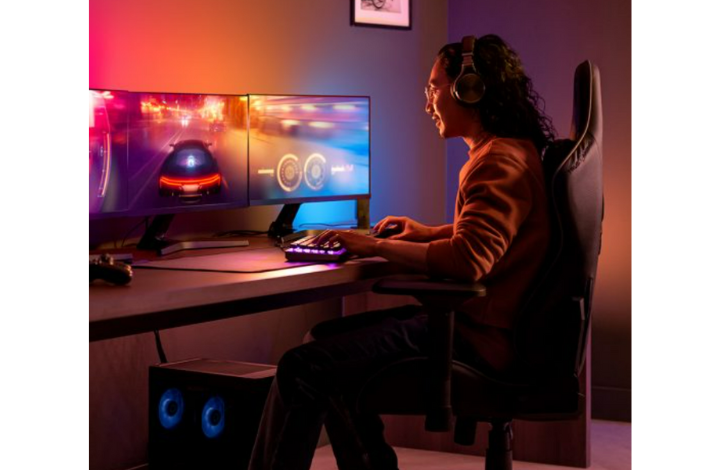 If you are a gamer, you'll most likely want to give the newest gradient lightstrips from Phillips Hue a try. The light strips produce multiple colors of light at the same time, letting you enjoy a colorful gradient of light around your gaming setup.
The lights are designed to dim, flash, dance and change according to the on-screen action, creating a natural captivating effect enhancing your immersive gaming experience.
When you can attach the Play lightstrip to the back of your monitor you can create a halo effect, which is pretty cool. The lightstrip is highly flexible making it easy to add it to your monitors irrespective of whether they are straight or curved. The Play Gradient Lightstrip for PC is available in 3 sizes: a 24/27-inch lightstrip and a 32/34-inch lightstrip for single-monitor setups, and a longer strip for a three-monitor setup using 24/27-inch screens.
You can also pair your Phillips Play Gradient Lightstrip with CORSAIR iCUE to set scenes on Philips Hue lights in your gaming room. Synchronize this with your CORSAIR RGB gaming peripherals to create a fantastic gaming atmosphere and be the envy of all your friends.
The Play Gradient Lightstrip will be available in the US and Europe starting 13th September 2022.
Price: 24/27-inch $169.99
: 32/34-inch $ 189.99
: 3 screen 24/27-inch $279.99
The Philips Hue Lightguide Bulbs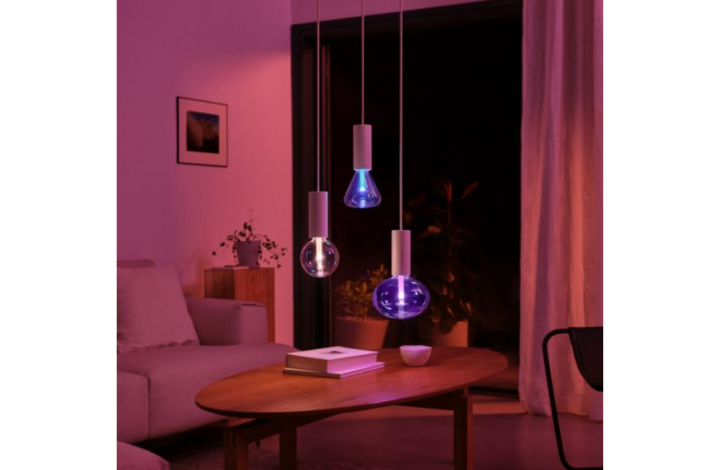 Next up is the highly anticipated bulbs called Lightguide. These lights are eye-catching with a contemporary design, that is sure to enhance any home décor. The light bulbs are available in 3 unique distinctive shapes — large globe, ellipse, and triangular.
These lights sport a distinctive inner tube that diffuses light in any color. Also, their reflective, glossy finish gives off a brighter shine. The bulbs can be set to be a room's center piece by matching it with specially designed pendant cords and metal holders. These have to be purchased separately though.
The Philips Hue Lightguide Bulbs will be available in the 4th quarter of 2022.
Price: $74.99 – $89.99
Pendant cords: $49.99
Philips Hue Filament Candle Bulb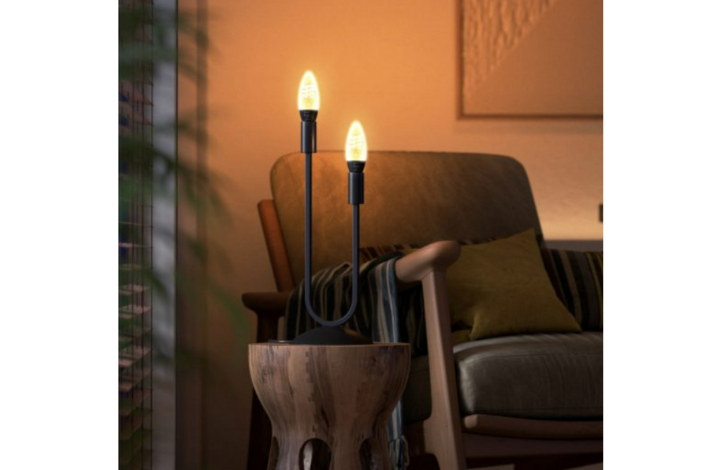 If you love a traditional candle-lit feel in your home, check out the Filament Candle bulb. It is available in White ambiance, allowing you to choose from thousands of shades of dimmable warm-to-cool light.
The Filament Candle Bulb will be available in the US and Europe starting 13th September 2022.
Price: $44.99, 2-pack $64.99
Philips Hue Slim Downlight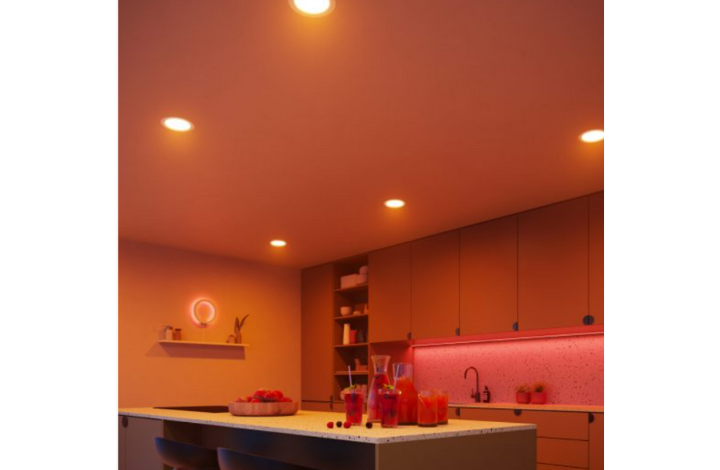 When you can't fit traditional lights in any part of your house such as a low ceiling or space with limited headroom, get yourself the Philips Hue slim downlights. These lights can bring color and life to any corner of your house as its slim design makes for easy installation.
At 1200 lumens, you can have all the brightness you need. And you can even dim it to match the atmosphere in the room.
The Philips Hue Slim Downlight is available from September 1st 2022 at $69.99.
Conclusion
All of these new Philips Hue accessories work with the Hue app for iOS. Users of the Hue app can also take advantage of a new feature that's coming to the app called Mimic. Mimic will make it look like someone is always at home. It will automatically turn the lights on and off at set times. This is useful when you away from home for long periods, such as when you are on a vacation.
Apart from using the Hue app, you can control these smart home accessories via HomeKit. If you have the Philips Hue Smart Bridge add-ons, you can control them via Apple's Home app, HomeKit, and Siri.
Check out the new Philips Hue lights on the company's official website.