ECOLOR, an innovative smart home products maker has built a name for itself in the smart lighting products niche. Its latest offering is a fun smart table lamp with plenty of cool multifunctional features. This lamp is particularly great for children. Why? Because it can help kids identify colors, draw patterns independently, improve creation and color recognition ability. If you are thinking about adding some fun lighting effects in your kid's bedroom, be sure to check the delightful ECOLOR Smart Table Lamp.
Features of ECOLOR Smart Table Lamp
Comforting Glow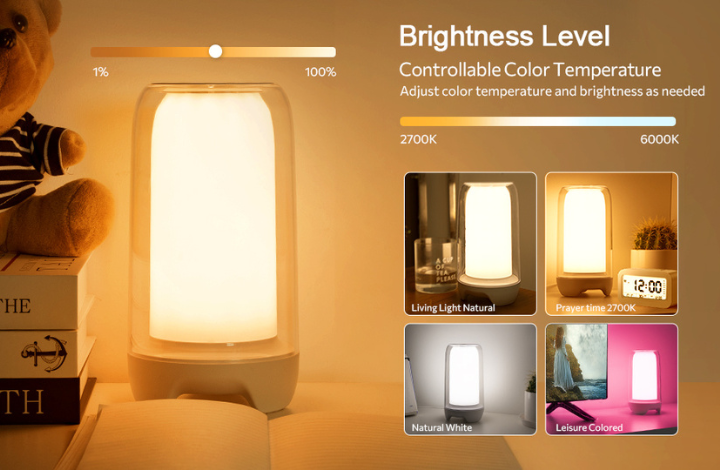 One of the first things that you look for in a good table lamp is the lighting effects. And the ECOLOR Smart Table Lamp does not disappoint. This cylindrical shaped smart table lamp has a special material shade that diffuses light in a softer manner, thereby avoiding eye-strain. It also lets you choose from a set of 10 different colors for each segment of the lamp. Plus, there is a dedicated night light section to manage the warmth and brightness of the lamp.
App Support & Commands
You can control this smart table lamp with the companion app ECOLOR Life via Bluetooth and Wi-Fi. The app features loads of presets, brightness levels and touch controls to customize as you please.
You can even hook it up with Alexa or Google Home and simply give commands to the lamp to light up. Note that the voice commands allow you to change the color and brightness of the lamp but you cannot set specific presets.
Touch Sensitive Lamp
The lamp has touch sensitive buttons at the top. If you are seated near the lamp you can simply touch the top of the lamp to adjust the brightness, turn the lamp on or off, and switch between the different light modes.
Finger Sketching Feature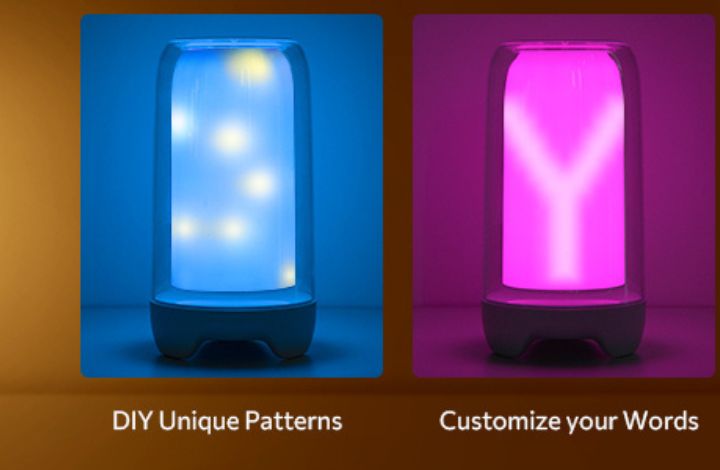 One of the innovative features of the ECOLOR smart lamp is the finger sketching feature in the ECOLOR Life app. There are two modes to choose from: the drawing mode and the message mode. In the drawing mode, you can use your creativity to sketch any design you like and save it on the app. Then you only need to tap on it to apply it directly to the lamp. This way you can create a variety of animations on the app to display on your lamp.
In the message mode, you can type out a 50-character message. You can then set its speed, text color, background shade and brightness. Its a lot of fun to play around with these features, especially if you are a kid.
Music Mode
In Music mode, you can set the lighting effects on this map to the tune of your favorite songs. Once done, you can play your favorite songs and enjoy the synchronizing lighting effects to the rhythm of the tunes. Perfect for when you want to sing and dance and just as good when you want to wind down and relax. It's your choice!
Set Timer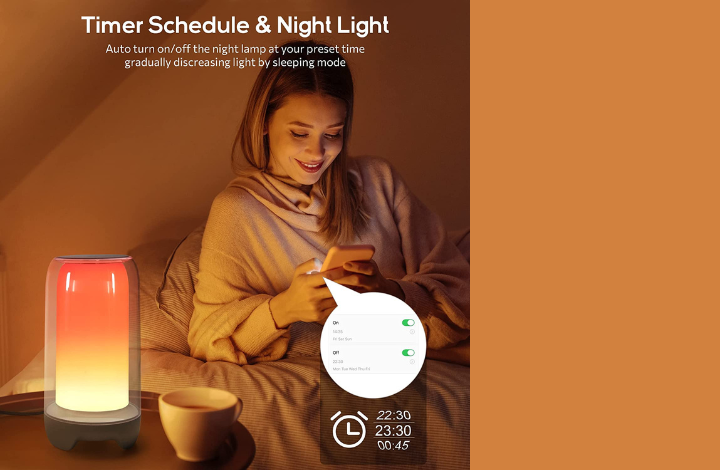 This gorgeous lamp not only glows nice and bright, but it can also be dimmed as your day winds down. Use the companion app to set your sleep time and the light will automatically start to dim. It will eventually turn off at night while you fall asleep.
Conclusion
The ECOLOR Aurora smart table lamp is a spectacular looking device that you can pick up on Amazon for around $69. For the price, you get the lamp along with a 6-foot USB-C cable and a power adapter.
The app does have some drawbacks like the lack of support voice commands for presets and Always On Bluetooth. And, there is also the possibility that complex drawings and messages may not display well on the lamps but that depends on how keen you are on the feature.
On the plus side, you have a good looking smart lamp that is both bright and colorful. It has plenty of great features such as support for voice commands and touch controls. There are also plenty of scenes and modes and tons of customization options. As a whole, you get great value for this feature-rich multifunctional smart lamp from ECOLOR.
Check it out on Amazon where it has a 4.7 out of 5 stars rating and tell us what you think!