If you are big on decking your Android smartphone with great looking wallpapers, here's one to check out. Wallpaper World: 4K, HD Backgrounds launched about one week ago and is packed with tons of great images you'll relish using. What's more, the app is free to download and completely ad-free.
Wallpaper World: 4K, HD Backgrounds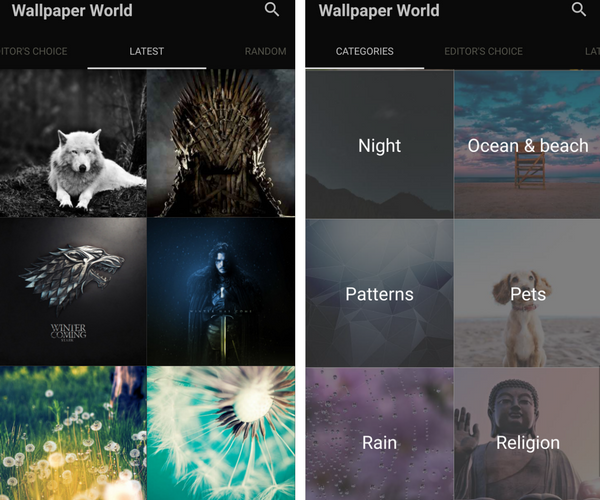 Wallpaper World: 4K, HD Backgrounds keeps its wallpaper collection in tabs. Once you launch the app, you are taken to the Latest wallpapers where you can scroll down to pick one that catches your fancy.
You can tap on a specific tab to see wallpapers by Categories, Editors choice, Weekly Popular, Monthly Popular, Popular or Random collections. You can also look for wallpapers by keyword by hitting the Search button at the top right corner of the screen.
Setting the Wallpaper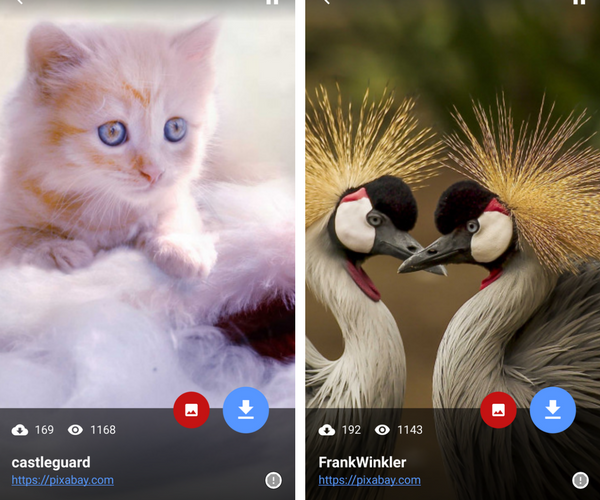 When you select a wallpaper, you can see how many download's it has, and you can tap on it again to see what it will look like on your screen without the distractions. The app also lists the link to the image contributor and an option to report an image if you think it is inappropriate.
Once you've chosen your wallpaper, just hit the Download button to export a copy of it to your device and then set it as a wallpaper. Or, you can click the Red icon to directly set it as your wallpaper. You can add the wallpaper to the Home screen, Lock screen or both or use it as your Contact photo. You can also set a Motion effect for the image if you like.
Auto Wallpaper Changer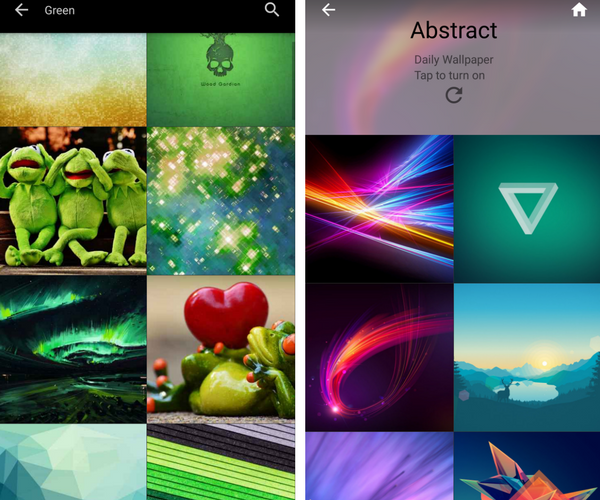 Wallpaper World: 4K, HD Backgrounds also has an Auto Wallpaper Changer feature that I think you'll love. This feature automatically displays a new wallpaper everyday without your intervention. To set it up, you need to head over to the Categories tab and select a category from where you want images to be auto changed.
Just under the category header, you'll see the option to turn on the daily wallpaper. Just tap the section and set the wallpaper to complete the setup.
Takeaway
Anyone who downloads Wallpaper World: 4K, HD Backgrounds is definitely going to enjoy using it. This app is just a week old so it doesn't have as many images as you'd find in older apps. However new images are added everyday, which is great.
One thing that I do appreciate with Wallpaper World is there is no cheap or inappropriate stuff. And if you should find any, you can instantly report it from the Download screen.
The Auto Wallpaper Changer is also a definite plus and the fact that the app is free with no ads ruining the user experience also goes in its favor.
As to its claim that it features a unique collection of HD wallpapers, I would beg to differ. Many of the images were from popular wallpaper sites so to call this collection "unique" is not justified.
Also, I found keyword search within the app below par as many searches turned up empty. Despite a few shortcomings, I found Wallpaper World: 4K, HD Backgrounds to be clean, light and speedy. It is an app I would definitely recommend for anyone who loves wallpapers.
Click the link below to download your copy of the app.
Price: Free |Download Link: Play Store
Did you like Wallpaper World? We'd love to hear your thoughts so don't hesitate to drop us a line.
Cheers,
Adeline