Now that Facebook Timeline has become imminent, it's time to check that your privacy options are set to the right specifications so that the information you want shared on your profile is shared with the right group of people. This way you no longer have to worry about what information will be revealed to whom. Let's take a look at ways to protect your privacy on Facebook Timeline.
Ways to Protect Your Privacy on Facebook Timeline
Set a Default Visibility Level
Instead of setting a visibility level for each individual item you post, you can set an overall default option to hide posts. To do this, click the drop-down arrow at the top navigation tab menu and click Privacy Settings.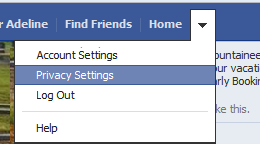 In the Privacy Settings page, scroll down and click Manage Past Post Visibility.
The Limit The Audience for Old Posts on Your Timeline message box is displayed. You can learn a little more about changing the privacy of old posts by clicking the link at the bottom of the message box.
Click Limit Old Posts.
Then click Confirm to limit old posts in your timeline without reviewing them. Remember that once you set an overall default level of visibility, you cannot undo the action. If you want to undo the action, you have to do it individually for each post!
Close the message box that confirms that the change has been made.
Now your timeline content will only be shared with friends and not friends of friends or the public.
Control Tagged Information
Any photo, comment, or status update to which you are tagged will automatically get displayed on your timeline. If you want to control which items you are tagged in, appear in your timeline, here's what you need to do.
In the Privacy Settings page, in the How Tags Work section, click Edit Settings.
The How Tags Work dialog box displays 5 options to manage your tags.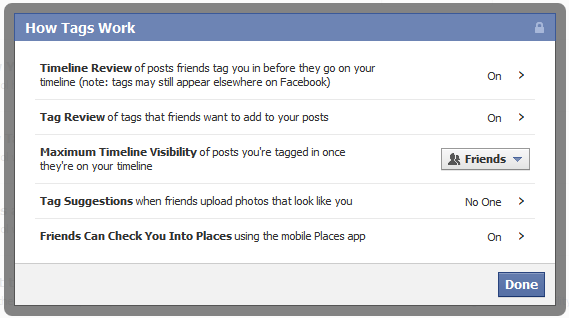 Timeline Review: It gives you the option to manually approve posts you are tagged in before they hit your timeline. When you have a post to review, the Needs Review tab will be displayed on your timeline.
Tag Review: Turn on this option to review tags that your friends add to your content before they appear on Facebook. When a person who is not your friend adds a tag to one of your posts you will be asked to review it. If you approve a tag, the person tagged and their friends can see your post.
Tag Suggestions: When a friend uploads a photo that looks like you, Facebook will automatically suggest adding a tag of you. If you set the option to No One, auto suggestions will not be made.
Friends Can Check You Into Places: Enabling this option will notify you if a friend checks you in.
Remember that the tag privacy settings will only work in your timeline profile and you have to individually delete the tags when you are tagged in a photo you don't want to be tagged in.
Manually Change Post Visibility
You can change individual posts by clicking Activity Log, which is displayed just below the Facebook Timeline Cover and then clicking the icons at the right of the post to set the options.
You can also adjust visibility of individual posts by clicking the Edit button.
Now that you have examined the different ways to protect your privacy on Facebook Timeline, start implementing them and the do a quick preview of how your page will look like by clicking the drop-down arrow below the Facebook Timeline Cover and clicking View As.

Follow us on Twitter or join our Facebook fan page to get tutorials, updates and how-to articles on Microsoft, Google and Apple products.