When it comes to finding a great tablet case for your iPad, you cannot ignore popular accessories maker Zagg. They have a fine collection of iPad cases with plenty of features and functionality. We take a look at the Zagg Messenger Folio Keyboard case for the iPad 10.5 inch model that types just like a laptop and even has Apple Pencil storage.
Zagg Messenger Folio Keyboard Case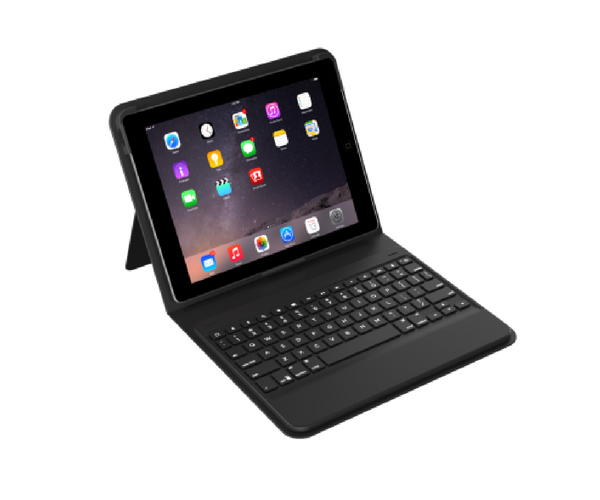 The Messenger Folio case is a simple, lightweight keyboard for the 10.5-inch iPad Pro. It has 2 viewing angles, a non-backlit keyboard, and an Apple Pencil holder.
Also Read: Zagg Slim Book Go and Rugged Book Go are Lightweight Keyboard cases for 2020 iPad Pro
Bluetooth technology helps to instantly pair the keyboard with the iPad. This way you don't have to pair your keyboard each time you log on.
It has a rechargeable battery that can last up to 3 months between charges. When not in use, a sleep/wake function helps to the preserve battery life.
It also sports a full-width kickstand that gives you the stability needed for viewing the iPad at a convenient angle. Comfortable, island styled keys let you type naturally on the keyboard, just like you would on a laptop.
The case also has a built-in holder for safe storage of the Apple Pencil when it is not in use.
Key Features
Island-style keys that respond just like a laptop keyboard
Full-width kickstand provides a stable platform
Stylish fabric that looks great on the go
Rechargeable battery lasts up to 3 months
Built-in Tab for Apple Pencil storage
Magnetic closure for holding the case securely
The Messenger Folio is compatible with the 10.5-inch Apple iPad Pro. You can pick it up on Amazon for $59.
If you want to check out other varieties of Zagg keyboard cases for various iPad models, you can find them on Amazon as well.