Windows Calendar app has improved a lot and has quickly become my favorite desktop calendar app. With the Windows 10 anniversary update, its become a lot easier to see your day's agenda and add events to the calendar. In this post, I'll show you how easy it is to add events to the Windows Calendar app right from the task bar itself.
How to Add Events to the Windows Calendar
If you haven't downloaded the Windows 10 Anniversary update, go to Settings-> Update & security and get all the latest updates installed.
Then here's how to add events to the Windows calendar.
1. On the taskbar, click the Date and Time icon to display the Windows Calendar in the pane.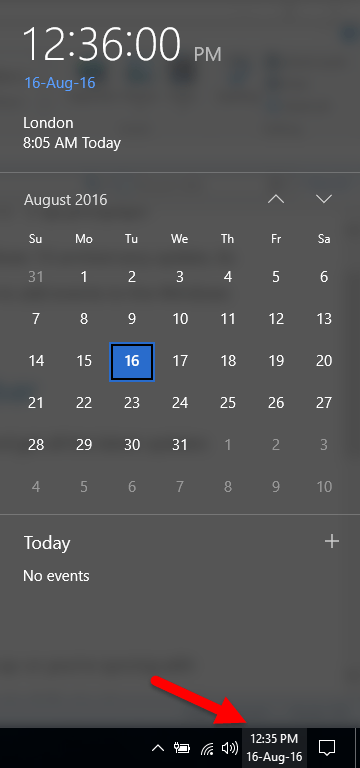 You can see the time and date you set on your Windows clocks at the top of the pane, followed by the Month Calendar view and the Today section. The Today section lists the tasks lined up for the day. If you don't have anything lined up for the day, it displays No events as seen in the image above. If you want to see what's lined up for another day, just click the date on the calendar and you can see your events for that day.
2. To add a new event, click the + button at the top of the Today section. This will open up the Windows Calendar app and display the page where you can start creating the event right away.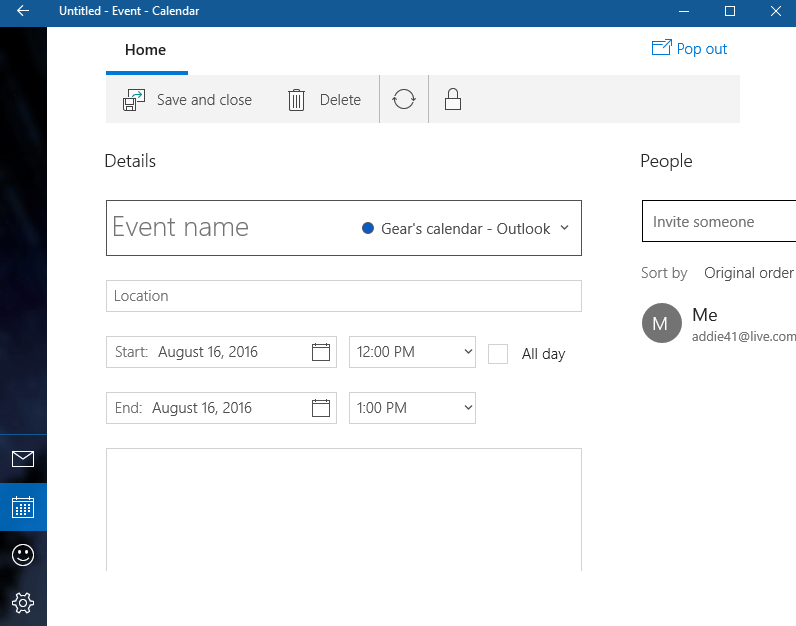 3. You can give the event a name and fill in all the requisite details. Include details on the location, time, description, and include the email addresses of anyone you wish to invite.
4. Click Save and close.
5. When you get back to the Windows screen, click on the Date and time icon. On the Calendar pane, you should see the new event you added.
6. If you want to hide your event list, simply click the Hide agenda link at the bottom of the pane to minimize it. You can always click the Show agenda link to view the agenda anytime you want.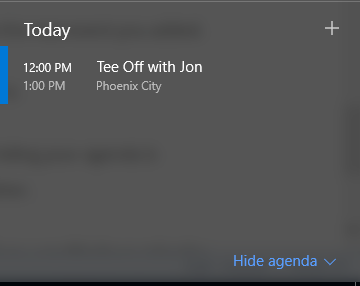 If you haven't used the Windows Calendar app yet, try creating an event using the taskbar option. You'll see how quick and easy it is to use it and may never want to use another app again. Windows Calendar also syncs well with other calendar apps including Google Calendar, which is an added incentive for you to start using the app.