Material Wallpapers app that features some pretty amazing Material designs, but today, we're taking a look at a cool Android app called Wally that offers a massive amount of stunning wallpapers that you simply cannot resist trying out.
Wally – Home to Awesome Android Phone Wallpapers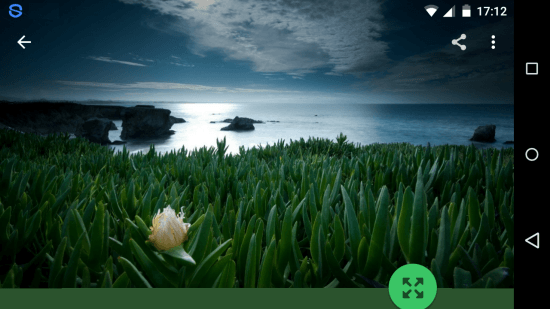 As soon as you download and open up the app you'll see a screen with a number of tabs: Top, New, Search, Random, and Saved. The Top List tab throws up a ton of stunning wallpapers most of which are sourced from Wallhaven, which is a site created by and for people who like wallpapers. At the outset you can see the wallpaper resolution and can save or favorite it for viewing later.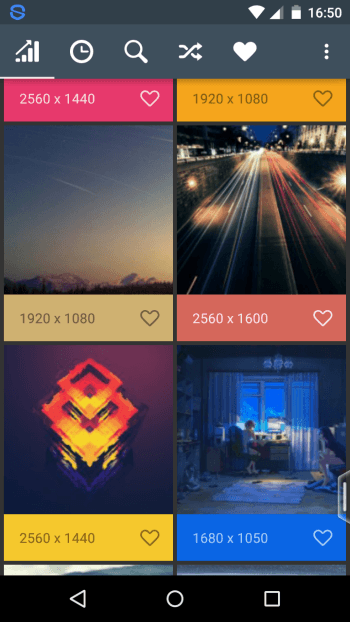 The Search tab lets you search for wallpapers based on keywords and colors. If you click the vertical dotted menu at the far right of the screen, you can select the Filter button, which opens up more options to find wallpapers. You can filter from a number of categories and rating as well as Aspect Ratio and Resolutions.
The Random tab as the name suggests throws up a whole bunch of random images while the Saved tab shows you all the images you have favorited from previous sessions.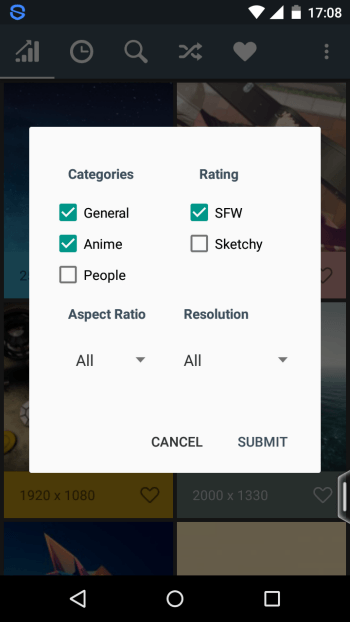 You browse through the wallpaper collection by scrolling through them endlessly and in my experience, I found the process smooth and easy. The transitions were quick but I suspect a strong and stable Internet connection would make the loading process a lot quicker.
To add an image as a wallpaper, just tap on the image and hit the Save button. This will save your image in a folder called Wally, in the Gallery. You can navigate to the Gallery, crop the image according your requirement and set it as your wallpaper. Its all a fairly simple and straightforward process and you can easily adapt the image to your homescreen config.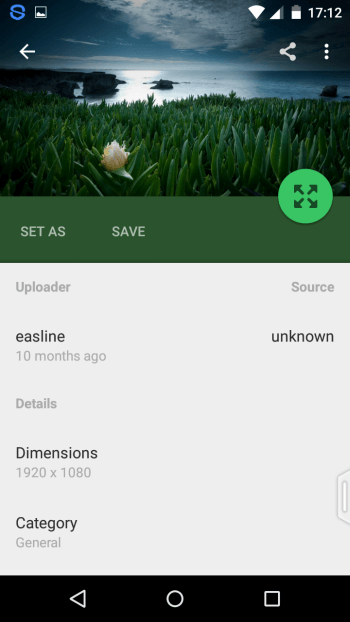 You can also set your wallpaper as a contact photo or add some photo effects to it before saving. Just click the Set As button and then hit the editing tools at the bottom of the screen to try out some cool effects.
Wally is truly a dream app for Android Phone wallpaper fanatics. It doesn't just offer a fantastic collection of great looking wallpapers for your Android smartphone or tablet, it also offers cool filter options and the ability to apply photo effects as well before you apply them to your screen.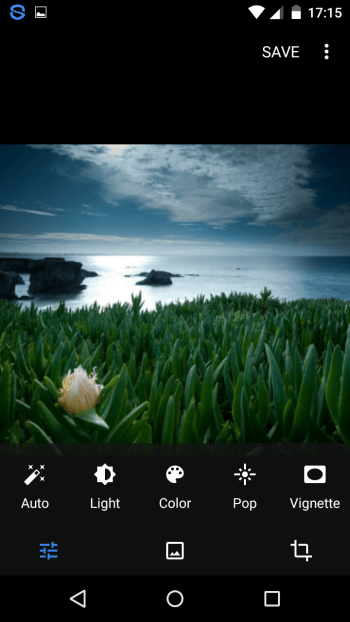 Wally is available on the Play Store for the price of free. Be sure to check it out and tell us what you think about it!
Download Wally Wallpaper App for Android