Health and fitness has become a top priority for most of us today and smartphones and smart wearables are now being designed to help us track and achieve our goals. Whether you are working up a sweat on a treadmill or getting that much needed sleep, fitness trackers are here to make sure that every activity is automatically recorded and laid out for you to analyze and refine your workouts. In this post, we take a look at some of the best fitness trackers in 2015 that you can pick up depending on your needs.
Factors to Consider Before Buying a Fitness Tracker
Before you decide to buy a fitness tracker, ask yourself what your fitness goals are. Write down all the activities that you do and highlight the activities you want to do. Check if a fitness tracker can monitor and track the activities that you do and want to do. If you are just a beginner, go for any basic fitness tracker, but if you are highly active and want to be constantly monitored, you may want advanced features such as heart rate monitoring or GPS tracking. If you are an athlete, professional devices from Garmin and TomTom are recommended.
Design
When it comes to the looks and design, you can go for simple strap-ons like the Moov Now, clip-ons like the Jawbone Up Move or the bands. If you don't plan on interfering with your tracker, the Moov is ideal, if you want to be alerted to notifications, you can go for bands with touch screen displays and if you simply want an unobtrusive LED light indicator to show your progress, you can go for bands with no displays at all.
Waterproof
Not all fitness trackers are waterproof. If you are keen on using the tracker while swimming, make sure you look for devices that are not just sweatproof or splashproof, but also waterproof.
Basic and Premium Features
As far as features go, most of the basic fitness trackers come with steps and calorie tracking. Sleep monitoring is also becoming a standard on most devices. If you want to track stair climbing, look for a device that has an altimeter apart from the standard accelerometer.
Premium fitness trackers come with built-in heart-rate monitors and GPS monitors. They are usually embedded onto the back of the wristband where it connects with your skin and provides data using optical sensors. The trouble with these sensors is that they are not always accurate. GPS monitors are highly useful for measuring speeds but the trouble with them is that satellite signals may be dodgy during poor weather conditions, so you'll have to take your readings with a pinch of salt.
Companion Apps
Most fitness trackers have a companion app that holds all the health and fitness data. But these apps may not allow you to enter all the workout details the way you prefer. In fact, you may simply prefer using MyFitnessPal to log your dietary habits while you may use MyMapRun for your jogging inputs. If you want to continue using third party apps, make sure that your fitness tracker allows you to connect to these apps for seamless syncing of data between apps.
Smartphone Compatibility
Finally, remember to check a device for smartphone compatibility. Most fitness trackers sync with iOS and Android but not many will work on Windows Phone. Microsoft Band is the only exceptional device that works on all 3 platforms, so add the compatibility factor to your checklist when deciding on a fitness tracker as well.
Price
Most activity trackers are priced between $50 to $300. If your main aim is to track your steps and calories, you can save money with a budget device under $50 such as the Xiaomi Mi Band or the Misfit Flash. The most useful fitness trackers that offer the basic features along with some extra ones such as smart coaching fall in the price range of $100-$200 and are really worth considering if you take your fitness tracking a little more seriously. Fitness trackers priced above $200 are the premium ones that offer all the basics, plus smartphone notifications and continuous heart-rate monitoring and GPS tracking.
Now that you have a better idea of what to look for before buying a fitness tracker, here are some of the best fitness trackers that you can consider buying in 2015.
Best Fitness Trackers in 2015
Fitbit Charge HR
The Fitbit Charge HR is an all purpose fitness tracker that measures and tracks the steps taken, distance traveled, calories burned, floors climbed as well as monitors your heart rate all through the day and night. It's sleep tracker monitors the length and quality of your sleep, helping you better understand your resting patterns.
Fitbit's mobile app further lets you log your food and see the progress of your fitness program. The wristband shows you incoming calls if your phone is nearby and it is compatible with iOS, Android and Windows so you can sync your data wirelessly on any device. It is also compatible with MyFitnessPal.
Although the Fitbit Charge HR is rain and sweat proof, you cannot use it when you are in the shower or when swimming. Its battery life lasts for about 5 days. Price: $149.95
Check out the Fitbit Charge HR on Amazon
UP3 by Jawbone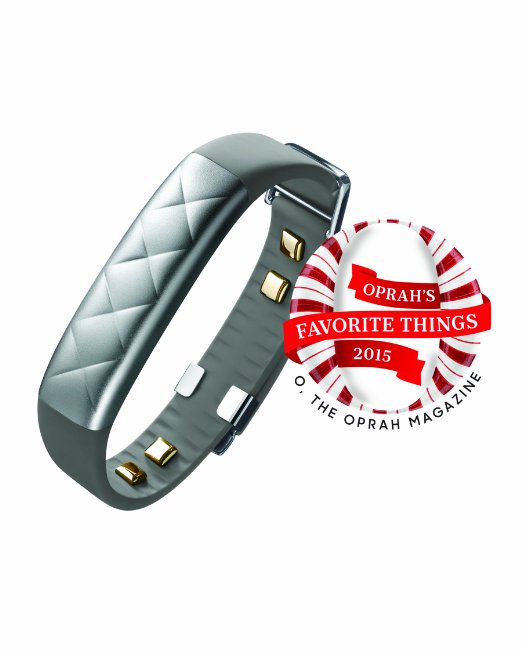 Marketed as Oprah Winfrey's Favorite Things of 2015, UP3 by Jawbone acts as a health monitor, offering personalized guidance from SmartCoach to achieve your health goals. It also uses an accelerometer and powerful algorithms to track and record your activities, distance, calories, active and idle time and workouts.
The device also automatically detects when you are idle and reminds you to move about if you've been idling too long. It also features an advanced sleep tracker that can determine the amount of quality sleep you've had. With a battery life of 7 days and a price tag of $129.99, UP3 by Jawbone is certainly one of the best fitness trackers you can pick up.
Microsoft Band 2
Microsoft's second-generation fitness band is an improvement over the original both in terms of design and features. It is one of the best fitness trackers that offers guided workouts with step by step walkthroughs of more than 130 activities, and plenty of short videos to make sure you've got it correct. It also comes with a GPS, a heart rate monitor and a barometer. And its smartwatch features include notifications and Cortana integration. The average battery life of the Band 2 is 2 days. Price: $249.99
Check out the Microsoft Band 2
Garmin Vivoactive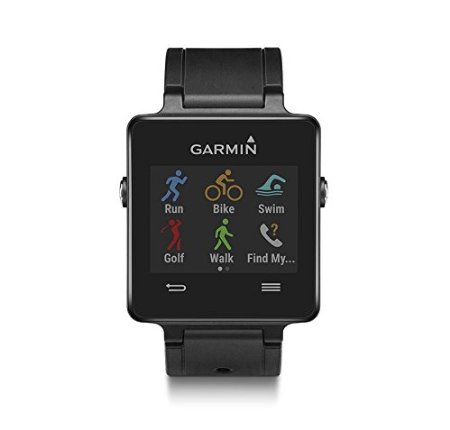 Garmin Vivoactive is a smartwatch that also doubles up as a fitness tracker with built-in sports apps for tracking GPS enabled activities such as running, biking, golfing and swimming. It syncs automatically with Garmin Connect Mobile giving you a summary of calories burned and any personal records achieved.
The device is ultra thin, at 8 mm, making it a comfortable device to wear all day. Plus, it has a 5 ATM water rating, meaning you can wear it while you're swimming or showering. Vivoactive tracks your steps and assigns a daily step goal for you to achieve, and depending on your activity for the day, it resets your goal for the next day. You do have to set the sleep mode on this device for it to monitor your rest.
The battery life can last up to 3 weeks if you're on the activity tracker mode or it can last up to 10 hours on GPS. If you want a fitness tracker that also doubles up as a smartwatch, displaying alerts for incoming calls, texts, email and calendar items plus notifications from social media and other apps, this one's worth considering. Price: $169.99
Withings Activité Pop
Withings Activité Pop is a fun fitness tracker with a focus on fashion. You can track steps, distance, running and calories burned, monitor your sleep, get health coaching in real time with some help from the Health app and even see the time along with your daily activity goals. The app comes with a cool battery life of up to 8 months and comes with a reasonable price tag of $99.99.
Check out Withings Activité Pop
Moov Now
The second gen Moov Now not only monitors your activities, but also advises you on how to get the most out of your workouts and motivates you to achieve your fitness goals, thanks to its a smart A.I coach. This is one of the best fitness trackers for swimmers with special features to monitor your strokes and display your lap breakdowns.
Its 7 Minute+ workout feature is based on the workout published by the American College of Sports Medicine. There are also instructional videos for cardio boxing and guidance for cycling, running and walking.
The device is not a fancy looking gadget; its just a strip of rubbery-silicone with a plastic face with no heart rate monitor nor a step counter features. If, however, you want a fitness tracker to coach you through your exercise routines or for recording your swimming laps, this one's worth checking out. Price: $79.99
Xiaomi Mi Band
The Xiaomi Mi Band is a cool, super affordable fitness tracker that can monitor your walking and running activities and automatically determine your sleep patterns and sleep quality. It connects to both iOS and Android smartphones including pedometers. The device is water resistant, but doesn't have a heart monitor. And it's a pretty good basic fitness tracker you can pick up at an affordable price of $19.99.
If you enjoyed using a particular fitness tracker, tell us which features made the device worth using.