Text to speech tools are a dime a dozen, but Capti, the education app and free web service from Charmtech Labs LLC. is more than just another text to speech converter. It is a tool that is finding great value in schools enabling teachers to better impart learning to students with disabilities, ENL students, and those struggling with reading comprehension. Capti's free features (text to speech, saver for later, screen reader support) are quite basic in nature, but its premium features are designed to provide the best reading experience for anyone who wants to consume digital content. We dig in to learn a little more about the tool and how it is transforming education in schools.
Top Free & Premium Features of Capti
Here's a quick look at some of the features of Capti: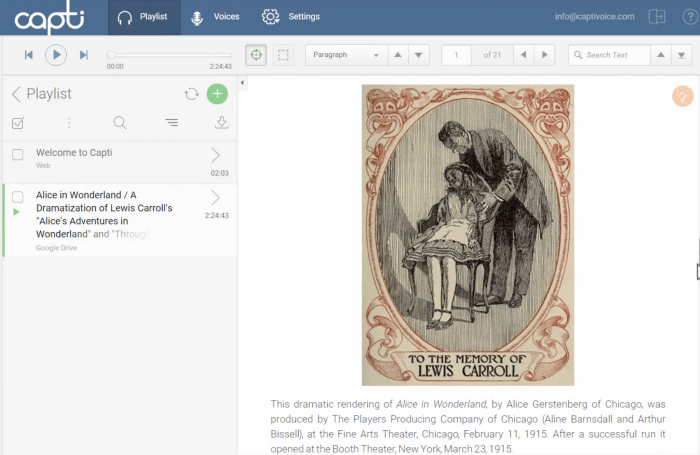 Text to Speech (Free) : Turn any text into an audiobook: hands-free and eyes-free.
Save for Later (Free) : Save documents and web articles in your Playlist for reading later, even in offline mode; synchronize your Playlist and your reading position across all your devices.
Sophisticated Navigation (Free) : Jump to the next/previous word, sentence, paragraph, heading, page, or a search keyword
Screen-Reader Support (Free) : Extensively customized for JAWS and NVDA (Windows) and VoiceOver (iPhone, iPad)
Full-Text Playlist Search (Pro) : Find the best-matching tracks in your Playlist; searching inside a track is free.
Images in Text (Pro) : View images in tracks created from EPUB, PDF, DOC(X), and other documents.
Word Translation (Pro) : Right-click any word in the track to translate the word into up to 26 languages (Windows, Mac and Chromebooks only).
File Size Limit (Pro) : Add documents and books that are up to 100MB in size; default limit is 10MB.
Word Challenge (Pro) : Play Word Challenge, a fun game of language knowledge, helping you learn the English language based on your own texts.
Create Playlists (Pro) : Stay organized by saving tracks into different playlists. Only 1 playlist is available by default.
Capti is partnered with Project Gutenberg and Bookshare to make it possible for users to pick books from these services to read at leisure; and tools such as Google Drive, Dropbox, OneDrive, Pocket and Instapaper to save and access personal documents for reading. Capti supports a number of formats including PDF, DOC, PPT. TXT, ODT, ZIP, and EPUB, which is great as most tools often lack support for one or the other. The tool offers up to 3 premium high quality voices depending on the platform and in up 26 different languages.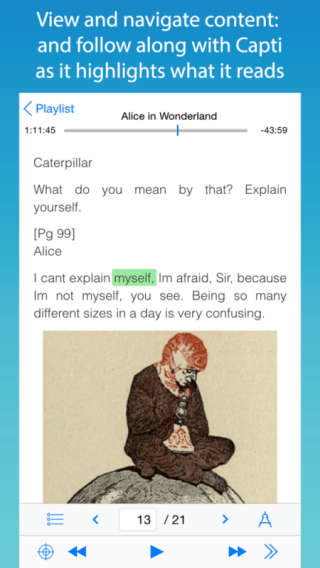 In the area of education, Capti is helping students gain easy access to learning materials, increasing their independent learning abilities and improving productivity. It is affording teachers more flexibility in the learning process, making it easier to distribute learning materials and enable greater student engagement and focus.
Teachers can create playlists with textual content and share them with their students, who can listen to their reading assignments on any of their devices. Signing up for Capti by school admins makes it easier to offer universal accessibility and learning equality for all and gain savings on dictionaries and other assistive technologies.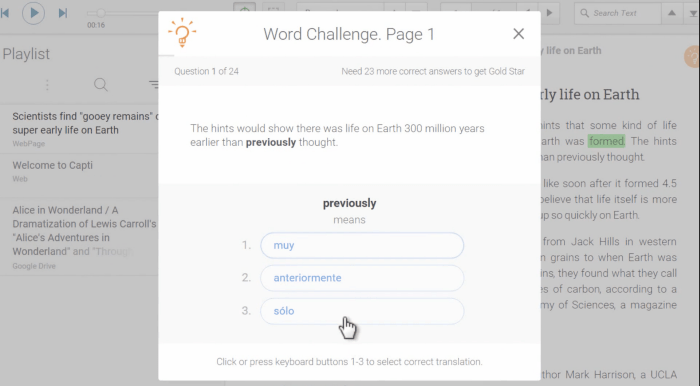 Capti is free for students although schools have to obtain a premium account, which is fairly inexpensive. There is also a dedicated customer support service to help users with any issues they have have with the tool.
How Capti Works in Schools
Setup
Schools can take advantage of the benefits of Capti by signing up for an organization account. Once done, they can send invitations to students and instructors to create their accounts at captivoice.com. Optionally, they can install Capti on their own or school devices.
Distribution
Instructors can create or put together reading materials in Capti in collections called Playlists. The materials are then distributed or shared via Capti. Optionally, instructors use Google Drive and other cloud services to share content with their students.
Benefits
According to the American Foundation for the Blind, there 0.5M children affected by vision loss in the U.S. alone, while the Yale Center for Dyslexia and Creativity states that dyslexia affects up to 20% of the population. Capti is indispensable for students with vision loss and dyslexia as it empowers such students to listen to all their reading materials.
It is also a great tool for English language learners (ELL), who can simultaneously acquire both reading and listening skills using the word translation and Word Challenge features. Students can listen to the reading materials in their Playlists and read along visually.
Dr. Yevgen Borodin, CEO of Charmtech Labs LLC. says that the company is on a mission to make people more productive and empower them to listen to everything they need to read. Capti has already received several prestigious awards, including the FCC Chairman's Award for Advancing Accessibility.
You can learn more about Capti and download the free version to try it out for yourself at www.captivoice.com.