Whether you are working in your office space or your home office, you most likely have a setup that involves connecting your laptop or computer to multiple displays and peripherals. If you have an elaborate setup, chances are, you can quickly run out of ports. And, reconnecting to them every time you go somewhere with your computer can become a tedious affair. You can solve this problem by picking up a good docking station that has plenty of ports and fast connections. Like the OWC Thunderbolt 3 dock that lets you easily connect to all your devices thanks to its 14 different ports. Interested? Read on to learn more about how this docking station can simplify your work life.
Why Buy the OWC Thunderbolt 3 Dock
One Connection for all your Peripherals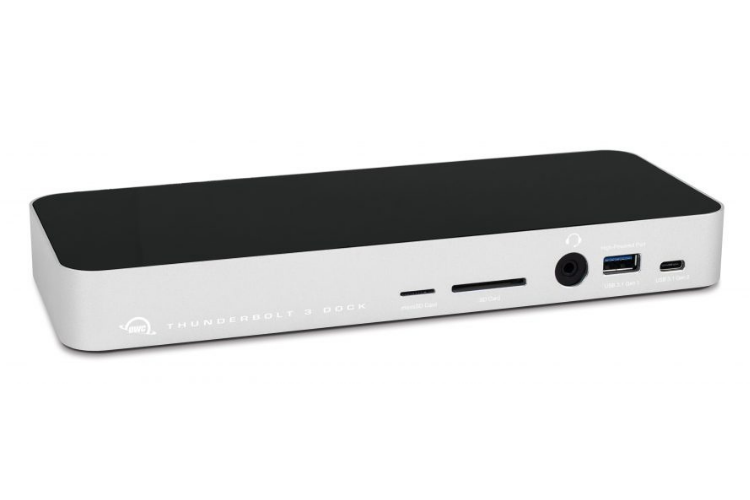 With the OWC Thunderbolt Dock 3 on your desk, you can be sure of one thing –  no more clutter that comes with connecting multiple displays and peripherals to your laptop. Using just one cable, you get access to an array of ports, power, and convenience. With a more clean and organized workspace, you can think and work better.
Disconnect and Reconnect at Your Convenience
Today's work environment is a highly interactive one. One minute you are slogging away at your desk, the next minute you are headed off to a meeting in some shared workspace. Or you could just be working while on the go.
In such instances, using this new Thunderbolt 3 dock really helps. You can quickly disconnect when needed and the moment you return to your desk, you can quickly reconnect, thanks to the simple, single cable connection.
When its time to disconnecting drives, you can do it safely in a single click with the OWC Dock Ejector software. This ensures that your data is written before disconnection, saving time and protecting against data loss.
Thoughtfully Designed to Access the Ports Easily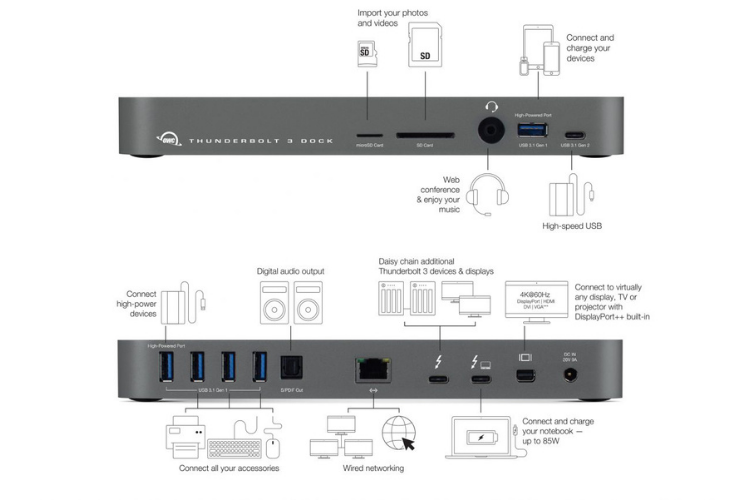 The Thunderbolt 3 dock has 14 ports to help you connect to any number of devices. But what sets this dock apart from others is its well thought out design.
The front of the docking station allows you to easily connect your portable devices such as your headphones. The SD and microSD slots at the front also allow for fast media imports. You can also plug in your headphones and mic into the front output/input jack to listen to your music and podcasts, while you work.
At the back of the docking station, you have a number of ports for your static devices.
High Speed Thunderbolt Connections
Connecting your computer to multiple peripherals is one thing, but you cannot afford lags. That's where the power of the Thunderbolt shines through. It is one of the most advanced and versatile interfaces available. Meaning, you are guaranteed the best speed and most connection options. The dock's main Thunderbolt 3 port offers up to 85W of power – perfect for your notebook computer. The secondary Thunderbolt 3 port allows for Thunderbolt device chaining, USB 3.1 Gen 2 connectivity and display support.
Support for Both Older and Newer Devices
With two USB Type-C (10Gb/s) ports and five USB Type A (5Gb/s), the OWC Thunderbolt 3 Dock lets you easily connect to older devices such as printers and keyboards as well as newer devices such as portable SSDs and mobiles. So whatever type of gear you have, you can be sure the Thunderbolt 3 port will provide you with that support.
Secure Gigabit Ethernet connection
A Gigabit Ethernet port on the OWC Thunderbolt 3 Dock gives you a secure, reliable and fast 1000Mb/s connection compared to the usual wireless standards available. If that is not enough for you, just use Thunderbolt 3 10G Ethernet Adapter to get up to 10 times faster speeds over the Gigabit Ethernet.
Enjoy Greater Screen Space
Whether you are a creative professional, an entrepreneur, student, or avid gamer, you may have the need to connect to multiple displays. The Thunderbolt 3 dock offers all the display support you need via the Mini DisplayPort and secondary Thunderbolt 3 (USB Type-C) connection that supports two displays with up to 4K resolution or a single 5K display.
Final Thoughts
The OWC Thunderbolt 3 Dock is a fantastic accessory for anyone looking to improve their workflow. It boasts 14 ports of connectivity that offer ample ports for high-speed connections as well as power to your laptop. Even better, you get all these connection options from just one single cable connecting to your computer. If you are a busy professional, or someone who works on the go, this stylish dock makes a great addition to your workspace.