Using multiple dongles to connect your external devices will be a thing of the past with Corsair's new Thunderbolt 3 Pro Dock. The dock makes it easy to connect all your external devices using just one port. If you've been struggling connecting multiple external devices, the Thunderbolt 3 Pro Dock's single port should make the job easy for you. Here's more on the accessory that was showcased at CES 2019 in Las Vegas.
Thunderbolt 3 Pro Dock – Key Features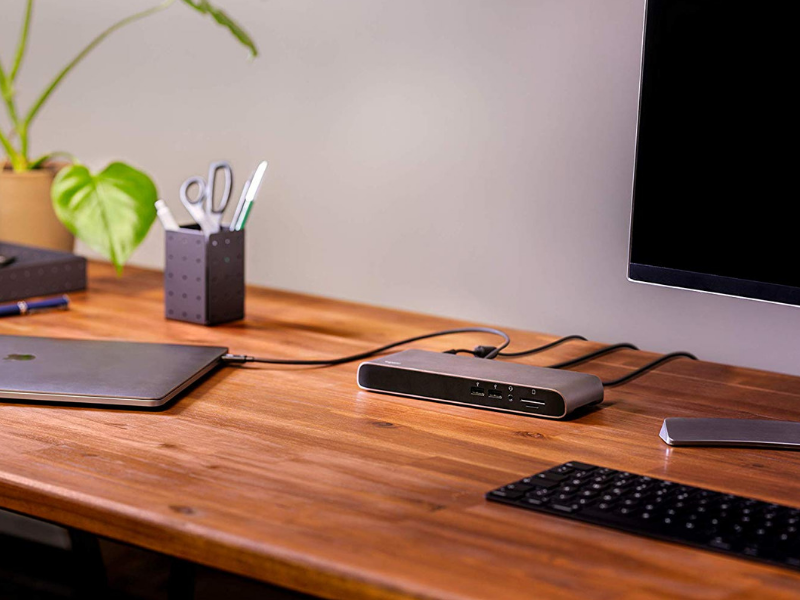 Two dedicated USB-C ports to connect your SSD Drive, Apple SuperDrive
Two front USB 3.0 Ports for devices such as flash drives
Two Thunderbolt 3 ports
Dual display compatibility
Powerful audio performance
Full speed charging
Superior networking capabilities
Works with MacOS Sierra 10.2 or later, Thunderbolt 3 port
Works with Windows 10 or later, Thunderbolt 3 port
Just One Cable
The dock sports two Type-C USB 3.1 Gen 2 (10Gb/s) ports and 2 Type-A USB 3.1 Gen 1 (5Gb/s) ports. The rear Type-C ports can connect high-end accessories for maximum transfer speeds, such as out of your ultra-fast SSD drives. The two front facing Type-A ports allow easy access to USB flash drives and other stuff you use on a regular basis.
Built-in Display Port
The dock's built-in DisplayPort lets you plug in any monitor up to 4K resolution and connect a second 4K screen to the other Thunderbolt port. This is great especially when you are working on high-resolution images, engineering activities or competing with gamers across the world.
Audio Capabilities
The dock also features a combined mic and audio 3.5 mm jack at the front. An amplified stereo 3.5 mm jack sits at the rear. You can plug any high-fidelity headset to it without disconnecting your desktop speakers. A maximum sample rate of 96 kHz, and a sample size of 24 bits ensures HD audio files play back crisp and true.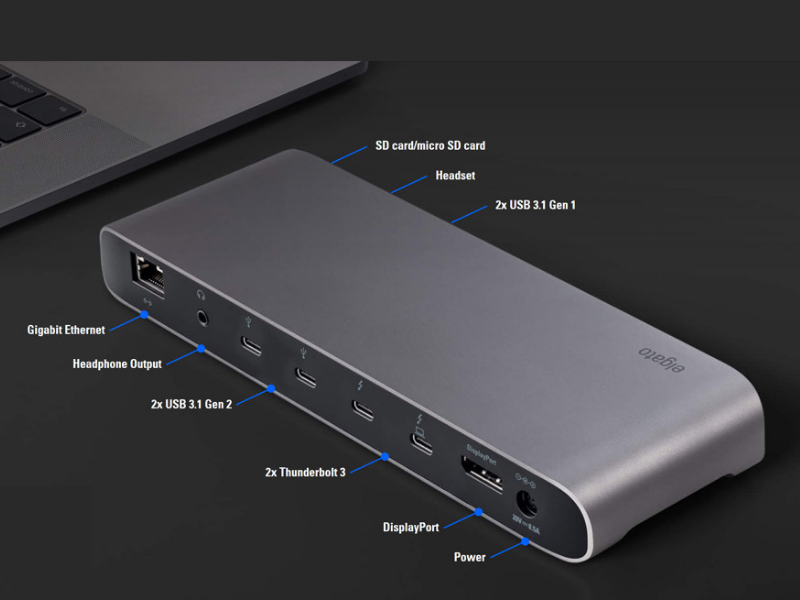 Multiple Reader Slots
The dock features slots for both SD and Micro SD cards that support blazing-fast UHS-II transfer speeds. It also provides access to various flash memory options such as SD, SDHC, and SDXC cards. This makes it easy to copy high-resolution images, move 4K videos or back up mobile data in minutes.
Networking
The Elgato Thunderbolt 3 Pro Dock leverages the performance of Gigabit Ethernet to secure constant connections to your servers. You can stream Ultra HD content without lags and transfer confidential files securely.
Easy Disconnect
When you connect multiple devices, ejecting them can be a drag since you'll have to eject each device one at a time. The free Elgato Thunderbolt Dock Utility app eliminates the need for this. When it is time to leave, simply disconnect all your storage devices simultaneously. You can instantly see when it is safe to disconnect by clicking the icon on the Menu bar.
Price and Availability
If you want to connect your external devices without the hassle of multiple cables, you can order the Thunderbolt 3 Pro Dock from Amazon for just under $350.