Letterboxd, the popular service for cinema buffs to connect with their like minded communities, comment, share lists and reviews has a new update that lets you enjoy its services on your iPad. Here's a closer look at Letterboxd 2.0.
Movies and TV shows have become a big part of life. The trouble is, most often, we just watch whatever is playing on the TV or Netflix or our favorite network. We never make it a point to make a list of the good stuff to watch and set aside time to watch them.
And we hardly ever set aside some time to chat with fellow movie buffs about a movie we just watched. Letterboxd is a great place to make that connection. If you love eveything about the movies, you'll feel right at home with Letterboxd.
Also Read: Share Your Love for the Movies with Letterboxd App for iOS
What Does Letterboxd Do?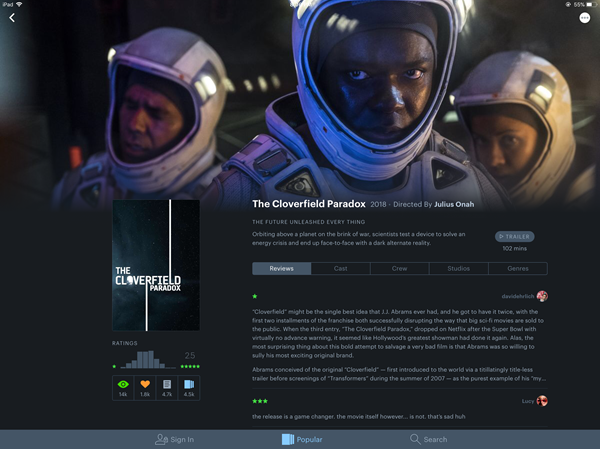 For those of you who are too lazy to read my review of Letterboxd, here's a quick recap of what the app does.
Track films you've watched
Track movies you want to watch
Find cast and crew information
Log and rate films as you watch it
Add reviews
Share and discuss your reviews with others in the community
Follow fellow members
Read their feeds, comment and like the discussions
See what is popular in your network
Make lists
What's New in Letterboxd 2.0?
Letterboxd has received its latest update that should delight all iPad users. The app has now become a universal app which means you can enjoy all the great cool features of the app on a bigger, better screen.
And boy, does it look awesome!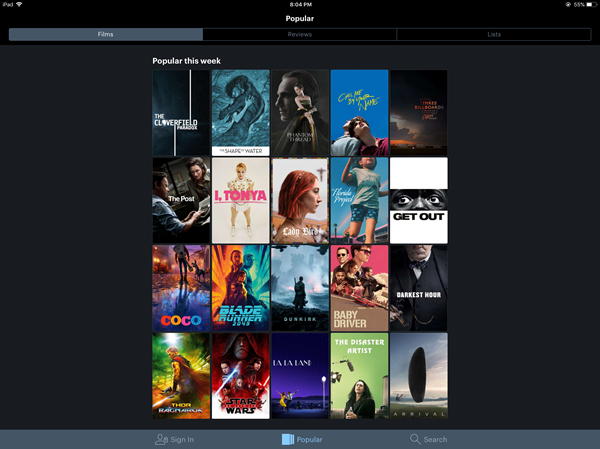 At the bottom of the screen, you have tabs to sign in, catch up on the popular happenings and search for something specific. At the top are tabs listing all Films, Reviews and Lists. Unlike the iPhone version, the UI elements are big, easily identifiable and so much more comfortable to interact with.
If you head to your profile page, you can see links to various sections you engaged with, such as films you rated, liked, your watch lists and such. When you open a movie listing, you can see a huge movie poster at the top, followed by details of the movie. That includes reviews, cast, crew, Studio and Genre.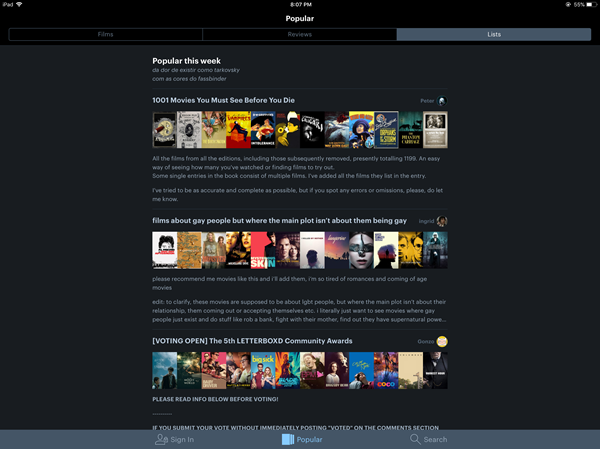 Just browsing around Letterboxd feels good. This is definitely an app that's made for the iPad.
The 2.0 update also brings support for split-screen viewing for every iPad screen size in both portrait and landscape modes. If you want to multitask, let's say you want to write a review while browsing for something on Safari to add to your Watchlist, this is now possible.
Apart from these updates, Letterboxd has also adopted the x-callback-url protocol, which is a standard to pass data from one iOS app to another. If, for example, you are using an app like Workflow to log a film from the Apple Watch, that could be done. More details on this can be found here.
Letterboxd is one of the coolest social networking app for movie buffs or anyone looking to discover great movies. With the 2.0 update, the app delivers a rich, enjoyable experience of discovering movies and engaging with the community on the iPad.
Check it out and tell us what you think.