TV today has never been more exciting. Whether its the fate of Steven Avery that grips your heart or the easy going New Girl that you look forward to chilling out with after a tired day, there's plenty of great exciting stuff happening every day. And if you're a huge movie buff, there's so much exciting stuff to look forward to in the coming months. So how do you keep track of TV shows and movies that are releasing? You'll need a good app to keep you up-to-date and one that I find pretty handy to have around is Next Episode.
Next Episode App Review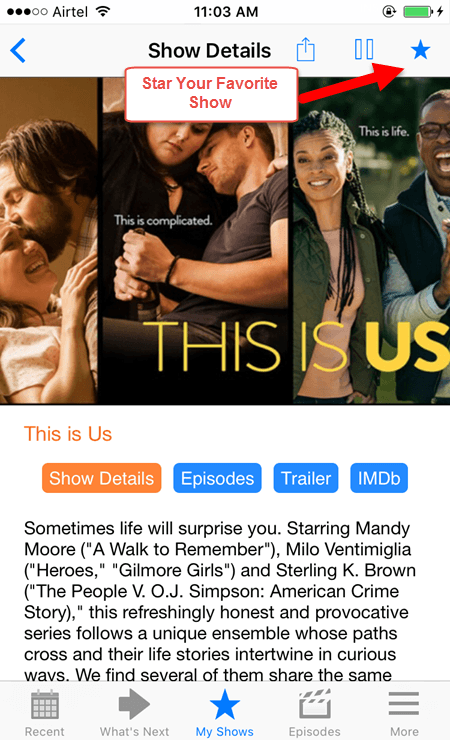 Next Episode is a clean app that lets you search for your favorite shows and star them. At the top of the Home screen, you'll see a Search bar that lets you find shows you want to follow. Once you find the show you're searching for, you can click on it to view more details such as short descriptions, duration, episode schedules and their summary, YouTube trailers and links to iMDB.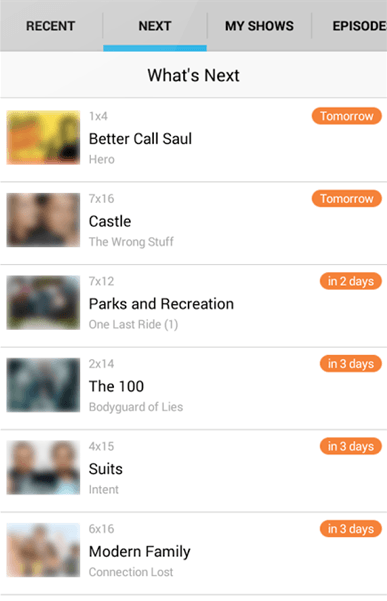 If you want Next Episode to track the show for you and send you push notifications when there are updates, you simply tap the Star icon at the top of the screen. If you no longer want to see updates from a show, you can hit the Pause button to stop tracking.
Next Episode Tabs
The app has 5 tabs Recent, Whats Next, My Shows (Home tab) Episodes and More. The Recent tab lets you view all recent episodes of your favorited shows. The Calendar view gives you a glimpse of all airing dates for the month. The What's Next tab displays all upcoming episodes with a countdown showing you how many days before an episode airs.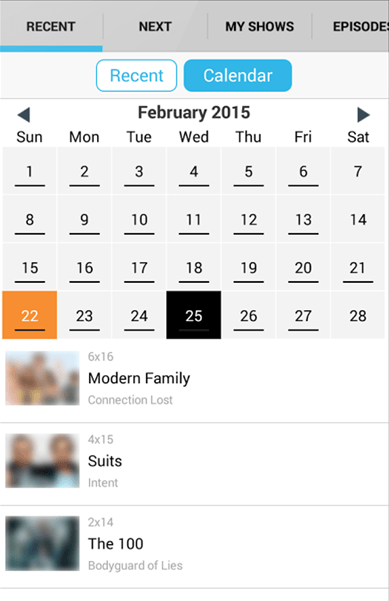 My Shows is the Home page where you search and set your favorite shows. The Episodes tab displays all new episodes of your favorited shows once they air. This tab is a great way to keep tabs on all unwatched episodes! Finally, we have the More tab, which packs in a whole lot of fantastic information on hot, trending and recommended movies and shows.
From this page, you can access plenty of links to add and monitor your favorite movies, see all the top movies added by users, see the top upcoming movies, and see trending movie lists.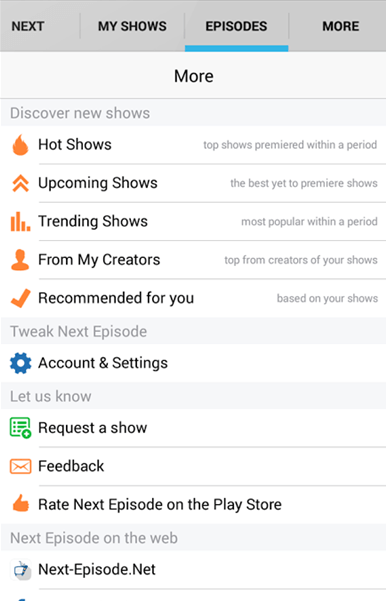 You can also catch up with the hottest shows, see upcoming premieres, trending shows and get recommendations based on your favorited ones. If you have a favorite creator, you can also see other shows made by such creators. In all, the app offers plenty of great ways to keep up with everything that is happening on TV and in the movie industry.
The Push notifications feature in the app is equally good letting you know when a show:
is about to air , 15 minutes in advance
gets new episodes
gets a premiere date and
is cancelled or reinstated
The Today widget lets you get a quick glance of your most recent and next episodes. If you can't find a show you love, you can place a request via the app to have the show added.
Pricing
Next Episode is free to download and use, but its an ad-supported version with limited access to some features. If you love how the app works, you can consider the Pro version, which is subscription based. That's $1.99 a month, $2.99 for a 3-month subscription, $11.99 for a year, or $5.99 a month for a 6-month subscription.
Next Episode is a well designed app that's easy to use and is a great recommend for anyone who loves TV/ movie entertainment. Click below to check out the app on your smartphone.
If you liked this app, be sure to check out our iOS Apps Archives for more great stuff.