Garmin, a leading name in GPS technology and smartwatches, has been consistently upgrading its devices with improved mapping features to cater to the needs of outdoor enthusiasts. The company recently announced its latest Garmin mapping features, their compatibility with various devices, and the benefits they bring to users. Here's a closer look.
Garmin Introduces New Mapping Features for Fenix and Epix Watches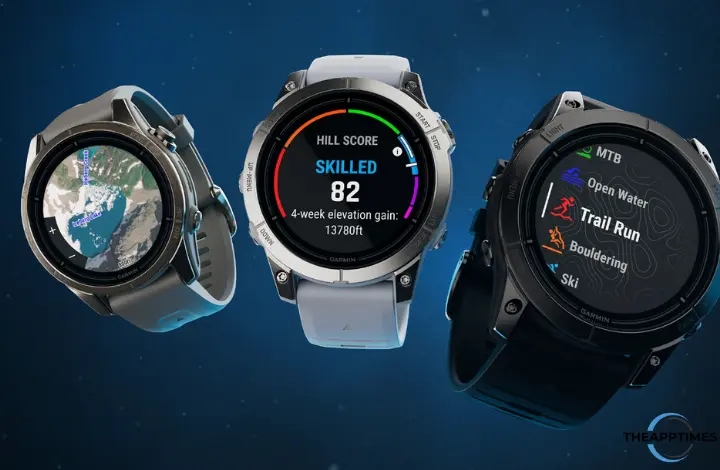 Garmin has been rolling out new mapping features, including Split Screen and Perimeter Mode, to its Fenix and Epix watches. These features were initially launched with the Fenix 7 Pro and Epix Pro and are now being expanded to the flagship devices.
Split Screen Mode
The Split Screen feature allows users to view the TOPO map on one half of the display while displaying crucial stats on the other half. This could include information such as distance to the next junction when using breadcrumb GPX navigation. By making the map screen more functional, users can better access progress metrics and turn-by-turn navigation information.
Perimeter Mode
Perimeter Mode adds another layer of convenience by enabling users to keep core stats, like distance, heart rate, or distance to the next junction, around the edge of the display. This feature aims to make the Map data screen more useful and encourage users to keep it front and center during their activities.
Weather Overlays
In addition to Split Screen and Perimeter Mode, Garmin has also introduced Weather Overlays. This feature displays wind and precipitation data over the TOPO maps, providing users with essential weather information during their outdoor adventures. This feature initially debuted with the Epix Pro and Fenix 7 Pro and is now being integrated into the standard models in that range.
Outdoor Maps+: Premium Mapping for Garmin Smartwatches
Garmin has taken mapping a step further by offering its Outdoor Maps+ service, which enhances the TOPO maps built into the Fenix, Epix, and other premium devices. This service, currently available only in the US, comes with an annual subscription fee of $49.99.
Compatibility
Outdoor Maps+ is compatible with the following devices:
Enduro 2
Epix (Gen 2)
Fenix 7 series
MARQ (Gen 2)
Quatix 7
Tactix 7
Unfortunately, Forerunner 955 and Forerunner 965 users will not have access to this service, despite running the existing TOPO mapping.
Outdoor Maps+ Features
The Outdoor Maps+ service offers several notable features that cater to the needs of outdoor adventurers:
Satellite Imagery
You can view detailed satellite imagery of your surroundings with waypoints plotted over the top if desired, providing a more comprehensive visual of the terrain.
Enhanced TOPO Maps
The service also improves upon the existing TOPO maps by including contour lines, which were previously absent. This addition provides a more accurate representation of the landscape. This makes it easier for you to navigate through challenging terrain.
Raster Maps and Additional Information
Outdoor Maps+ also provides access to Raster maps that display trailheads, camping areas, water points, and more. You can also view state lines and public land boundaries, all of which contribute to a more informative mapping experience.
Additional Updates
Jet Lag Advisor
The Jet Lag advisor feature offers guidance on sleep schedules and exercise regimes to mitigate the effects of long-haul travel. This allows you to adjust to new time zones more easily.
Backcountry Skiing and Snowboarding Modes
For winter sports enthusiasts, Garmin has improved the backcountry skiing and snowboarding modes, enabling the automatic recognition of ascents and descents without user input.
Water Sports Activity Profiles
Water sports fans will appreciate the addition of water skiing, wakeboarding, wake surfing, and tubing activity profiles to their Garmin devices.
Sail Expedition Mode
Sail Expedition mode caters to multi-day sailing activities, with GPS sampled once every hour.
Physio TrueUp Expansion
Thanks to the expansion of the Physio TrueUp feature, Training Status, Load, and Load Focus will now sync between Garmin devices. This will ensure a seamless experience for users.
Sleep Score for Vivomove Series
Vivomove hybrid smartwatch users can now access the Sleep Score feature. This can significantly improve your sleep tracking capabilities.
Improved Sunrise and Sunset Widget
Garmin has also made the sunrise and sunset widget more useful. It now provides guidance on when to start activities or set up camp during outdoor adventures.
Conclusion
Garmin's mapping features and updates demonstrate the company's commitment to providing a superior user experience for outdoor adventurers.
With enhanced mapping capabilities, premium services like Outdoor Maps+, and new features across various smartwatch models, Garmin is setting the benchmark for outdoor navigation and activity tracking. If you own a compatible device, you can look forward to a more comprehensive, informative, and user-friendly experience as you embark on your next adventure.