The Garmin Fenix 7 Pro is the latest addition to the Garmin sports watch lineup. It offers an array of enhancements and new features compared to the standard Garmin Fenix 7 range. As a top-tier sports watch, the Fenix 7 Pro has a lot to offer for fitness enthusiasts and professional athletes alike. In this post, we check out the top features of the Garmin Fenix 7 Pro so you can see at a glance what you'll get when you buy this sophisticated smartwatch.
Top Features of the Garmin Fenix 7 Pro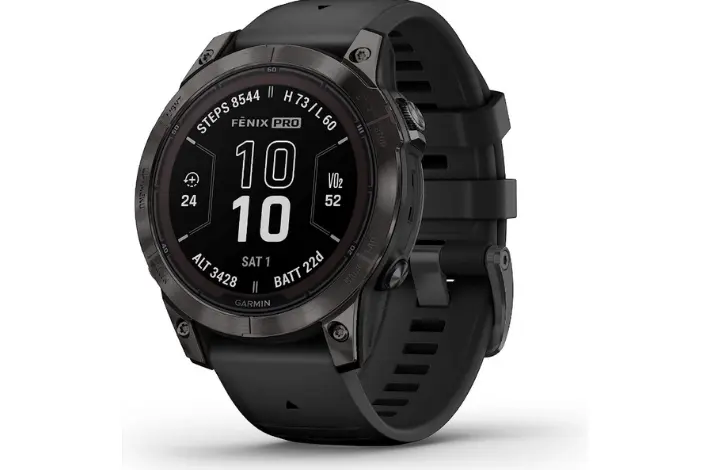 What Sets the Garmin Fenix 7 Pro Apart
Although the Garmin Fenix 7 Pro shares several similarities with the standard Fenix 7 range, it boasts a few noteworthy upgrades. The Pro models come with improved heart rate monitoring technology, new training analysis features, and a more accurate GPS tracking system.
While the overall design remains consistent with its predecessors, the Fenix 7 Pro offers a few additional perks that make it stand out in the crowded sports watch market.
Upgraded Heart Rate Monitoring
One of the most significant improvements in the Garmin Fenix 7 Pro is the upgraded heart rate monitor. Garmin claims that the enhanced performance of the Pro model's heart rate monitor will provide more accurate readings compared to the standard Fenix 7.
During testing by experts, the Fenix 7 Pro's optical heart rate monitor performed impressively, with only a few minor hiccups at the beginning of runs and slight lag during intense intervals. However, the heart rate readings were almost identical to those obtained using a chest strap, demonstrating the monitor's accuracy and reliability.
New Training Analysis Features
The Garmin Fenix 7 Pro introduces two new elements of training analysis: Hill Score and Endurance Score. These color-coded graphs provide valuable insight into your performance and abilities.
Hill Score
The Hill Score estimates your capability to tackle inclines based on your hill strength, hill endurance, and VO2 max. This metric is exclusive to running and can be a helpful tool for those looking to improve their performance on hilly terrain.
Endurance Score
The Endurance Score, on the other hand, takes into account all sports and evaluates your ability to sustain effort. This score can be particularly useful for athletes participating in a variety of sports or training for endurance events.
After a two-week period, the Fenix 7 Pro will provide you with your Hill Score and Endurance Score based on your training data. If you're already using another Garmin device, you'll receive your scores as soon as the Fenix 7 Pro connects to Garmin Connect.
Flashlight for Outdoor Enthusiasts
While the Garmin Fenix 7X already had a built-in LED flashlight, the Fenix 7 Pro range extends this feature to all watch sizes. This bright and useful extra light can be particularly beneficial for those who enjoy camping or other outdoor activities.
Multi-Band GPS Tracking
The Garmin Fenix 7 Pro range comes standard with multi-band GPS tracking. This feature was previously available only on the Sapphire models of the Fenix 7 range. The advanced GPS mode provides the most accurate tracking possible. This makes the Fenix 7 Pro an ideal choice for athletes who require precise location data during their activities.
Enhanced Map Features
Garmin has added several new features to the maps on the Fenix 7 Pro, including weather forecast overlays and a new shading style to improve visibility. These enhancements can help you better plan your activities and routes based on upcoming weather conditions and terrain.
Additional Sports Modes
The Garmin Fenix 7 Pro offers dozens of new sports modes, including football, basketball, and horseback riding. These additional options make the watch even more versatile for athletes and fitness enthusiasts with varied interests and training goals.
Improved Display for Better Readability
The memory-in-pixel display on the Garmin Fenix 7 Pro has been upgraded to improve readability, especially in low light. Although the difference may not be immediately noticeable, the enhanced display can provide a clearer view of your data and metrics in various lighting conditions.
Launch and Availability
The Garmin Fenix 7 Pro was officially released on May 31, 2023, alongside the Garmin Epix Pro. Prices for the Fenix 7 Pro models start at $799.99 in the US for the standard version. However, the Sapphire models featuring titanium bezels can cost up to $999.99/£1,099.99.
Conclusion: The Garmin Fenix 7 Pro – A Worthy Upgrade?
Overall, the Garmin Fenix 7 Pro is an excellent sports watch that offers a variety of new features and enhancements compared to the standard Fenix 7 range. With its upgraded heart rate monitor, advanced training analysis tools, and improved GPS tracking, the Fenix 7 Pro is a fantastic choice for athletes and fitness enthusiasts looking for a high-quality, reliable timepiece to support their training goals.