Cellphone addiction is on the rise, especially among kids. With so many fun apps and games available on mobile devices, it is hardly surprising that kids are glued to these gadgets. The downside to this technology oriented lifestyle is a decline in their physical health. In a recent study done by the British Journal of Sports Medicine, it was found that U.S kids in the age group of 9-17 years ranked 47th place in physical fitness. If your child happens to be addicted to the phone, you'll need to check out Goya Move. This app offers a simple solution for this problem. Here's how it works.
Goya Move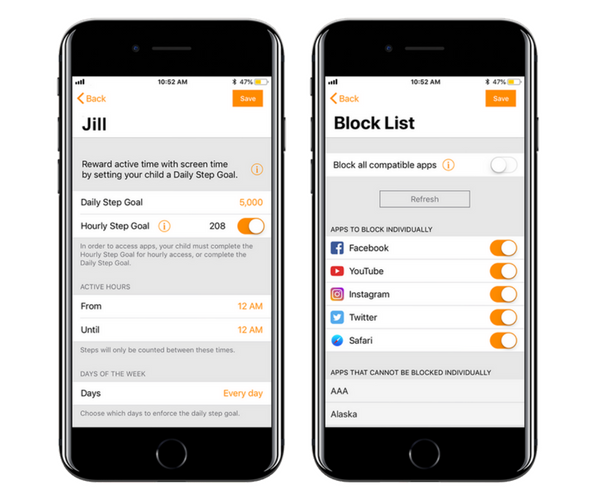 Install Goya Move on the parent's phone as well as on the child's mobile device. On the child's device, the app allows the OS to be remotely controlled by the parent.
Parents can then set a Step Goal for their kids. This is basically deciding on the number of steps you want your child to make, choosing the number of hours in the day you want them to complete the steps and selecting which apps you want blocked if they don't meet the goal. Once the child meets the step goal, the apps automatically unblock and the kids can start using them again.
See the Goya Move Teaser
Goya Move also has a ton of other features that can be customized for better parental controls. Parents can set goals, monitor them and get better insights into the child's activities right from their own phone. Parents also have options to set blackout times such as during dinner, family get-togethers and such. Plus, Step goals automatically reset every 24 hours, so you can simply set it and forget it.
Also Read: Baby Tips The Ultimate Parental Guide [Review]
Takeaway
Goya Move offers an interesting way to get kids off apps and into the habit of being active. Will it be effective? That depends on whether the app can block offline apps and whether parents are judicious in monitoring kids and tracking their activities?
Nothing is simple in the real world. If you believe that Goya Move might work for you, you can download the 5 day free trial and see how it goes. If you are seeing good results, you can buy the $1.99/month subscription pack and get your kids to enjoy the best of both the physical world and the virtual one.
Price: Free Trial (5 days) | $1.99/month/child | $1 for every additional child Download links: App Store
Have you checked out Goya-Move? Let us know if it got your kids off their mobile devices and on to the parks and playgrounds.