Every email message is accompanied by a well designed signature. If you use Outlook both for personal as well as work purposes, you may want to use different signatures when corresponding with your contacts. Sometimes, you may even want to use different signatures for different purposes. For instance, you may want a different signature for an email that you composed, as opposed to a message that you reply to or forward to others. Microsoft Outlook 2010 offers the flexibility to add a number of email signature options and in this tutorial I'll show you how to add signatures to different e-mail messages.
You can customize the email signature you created by adding a picture, logo, messages, personalized business card, or even social media icons. And you can setup the signature to display automatically or you can choose to manually add them.
How to Add Signatures to Different E-mail Messages in Outlook
1. Select the File tab and choose Options.
2. In the Outlook Options dialog box, on the left select Mail.
3. In the right, in the Compose messages section, click Signatures.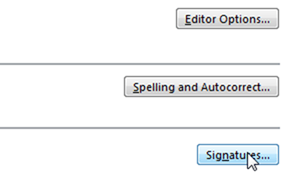 4. In the Signatures and Stationery dialog box, In the Choose default signature section, from the E-Mail account drop-down list, select an account.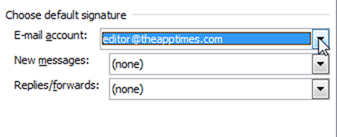 5. If necessary, below the Select signature to edit section, click New and in the New Signature dialog box, enter a new signature.
6. From the New Messages drop-down list select a signature to add to a new message.
7. From the Replies/Forwards drop-down list select a signature to add to a message that you wish to rely to or forward.

8. Click OK.
Voila! You have now created and set the signatures for your messages. This will save you considerable time when composing a new message or replying to one.
RELATED READING: How to Backup Outlook Signatures and Restore it Later
If you found this tutorial useful, be sure to visit our Outlook Archives for more handy Outlook tips and tutorials.