In the world of mobile gaming, there are countless puzzle games to choose from. There are few games that can capture the attention and imagination of players quite like Molecano. Created by Thomas Young, the mastermind behind the popular Dadish series, This fun game offers a fresh and unique word puzzle experience that will challenge and entertain players of all ages.
Molecano: Exploring Volcanoes with Words
Molecano takes place in a volcanic landscape where players must help Molene the mole navigate through treacherous terrain using words as a bridge. The objective is simple: string together words to create a safe path for Molene to cross and collect delicious food scattered throughout each level. With 400 levels to explore and more on the way, Molecano offers hours of captivating gameplay.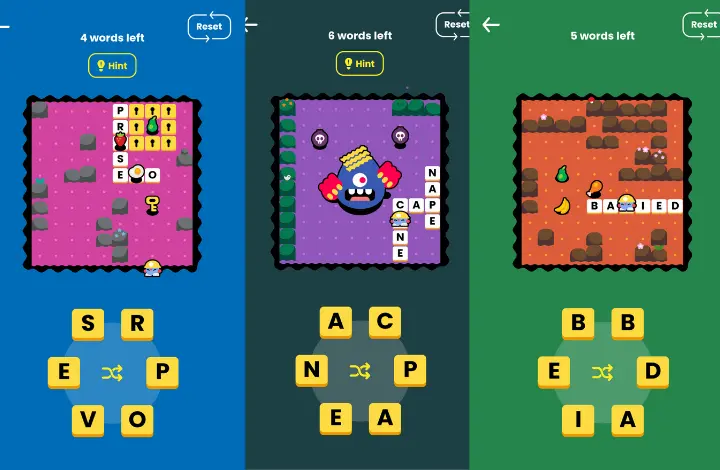 The Gameplay: A Challenging Word Puzzle Experience
In Molecano, players are presented with a limited number of words in each level, making strategic thinking and careful planning essential. The words can be rotated vertically to create bridges, allowing Molene to traverse the lava-filled landscape. You must choose words wisely, as longer words can earn valuable coins that can be used to unlock new characters.
Features to Help You Succeed
Molecano offers several features to help players facing challenging levels. Players have the option to reset the board if a mistake is made or use hints to guide them in the right direction. The game provides the ability to scramble the available letters, which can help spark new ideas and strategies.
Unlockable Characters and Rewards
One of the highlights of Molecano is the opportunity to unlock a variety of charming characters. By collecting coins throughout the game, players can unlock new characters with unique abilities and appearances. This adds an extra layer of excitement and motivation to continue playing and exploring the volcanic world of Molecano.
Compatibility and Availability
Molecano is available as a free download on the App Store for iPhone and all iPad models. The game offers an ad-supported version. Players can opt for a $5.99 in-app purchase to remove all ads and enjoy an uninterrupted gaming experience.
User Feedback and Impressions
Many who have played Molecano have praised the game for its innovative gameplay mechanics and captivating design. The challenging puzzles and adorable characters have kept players engaged and motivated to progress through the levels. Some players have requested additional features like score tracking and leaderboards. In all, Molecano has received positive feedback for its unique concept and enjoyable gameplay.
Popular gaming platform TouchArcade, has given the prestigious title of "Game of the Week." to Molecano. This praise solidifies the game's appeal and makes it stand out in the crowded puzzle game market.
Final Thoughts
If you're seeking a fresh and challenging word puzzle game, check out Molecano. With its volcanic landscapes, strategic word-building mechanics, unlockable characters, and delightful design, Molecano is a must-play for puzzle enthusiasts of all ages. Download the game now and embark on an adventure that will test your vocabulary and ignite your imagination.
Download link: App Store; Website