Sweet Candy- Logic Experiments is described as "a best, free, simple, fun and challenging minimalist next gen puzzle, where you have to escape with the least possible moves." It seems simple enough, however some of the moves you make can add ten or more moves to the completion of a level.
The game requires you to constantly use your brain and problem solving techniques in order to pass each level and make it through all of the chapters. Each level requires a bit of planning since you are penalized for additional moves. The end goal is to complete the level in the fewest possible moves so you can collect the maximum amount of stars.
Sweet Candy Logic Experiments Review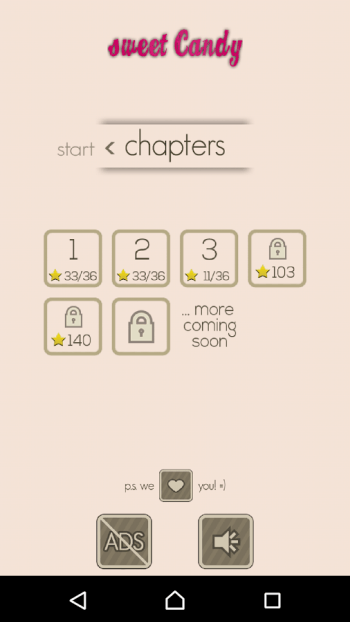 The game contains instructions on the very first level and shows which candy piece you can move, which ones you need to collect and which one serves as the exit or gate. The instructions are relatively simple, however this is the only place you can find them, and this is one of the negative points of the game another con is listed below.
The game does not tell you how many moves are needed to receive one, two or three stars on a level. This can make the game even more challenging and sometimes very frustrating. Since, the goal is to collect stars in order to advance, sometimes you may get stuck on a level and continuously receive one star and cannot figure out how to get the one or two more stars you need to have enough stars to advance to the next chapter.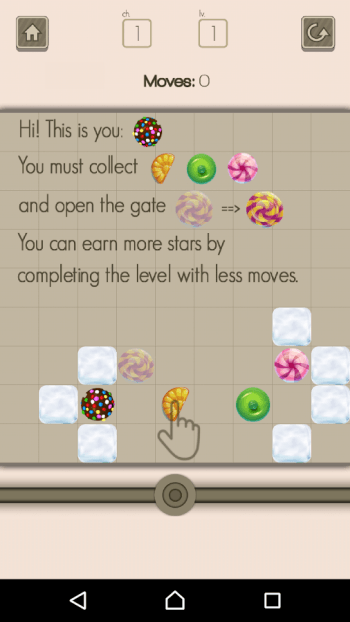 The game consists of chapters with twelve levels on each chapter. You can move on to a new chapter by earning thirty three stars out of thirty six for each level. As you progress through the game the chapters become increasingly more difficult. Below are a few descriptions of chapters and obstacles.
The first chapter is the easiest and only contains one barrier. It has ice cube blocks which prevent you from going to certain places on the screen. You have to use these ice blocks as a tool to collect the candy and make it to the exit.
The second level introduces a new element: arrows. These arrows enable your candy piece to move in only one direction. This creates another obstacle as the arrow stops you if you come towards it going the wrong direction. There is generally only one entry point on the arrow and then it shoots you in a straight line in that direction.
The third chapter becomes even more difficult. It introduces warps which are spirals that teleport you from one warp to another. Again, these can serve as either tools or barriers just like the previous obstacles. The warps can prevent you from reaching a candy or teleport you right where it is.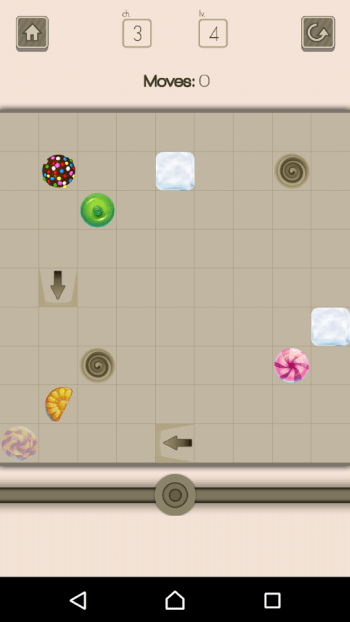 All of these elements add a new level of difficulty to the game and keep you thinking through every possible move. Within each chapter the levels becomes more difficult and the new elements become more and more interesting.
In general, Sweet Candy- Logic Experiments is a puzzle and strategy game which is both challenging and entertaining. The game consists of colorful candy pieces and appealing graphics. The levels and chapter will make you think and each is challenging in its own way.
Get Sweet Candy- Logic Experiments from Play Store