Now that Apple has launched the new iPad Pro, OtterBox has also launched new cases for the 11- and 12.9-inch versions of the iPad Pro. The 2020 iPad Pro lineup has a slightly modified design in that there is now a new square camera that is home to the ultrawide and wide lenses as well as a new LiDAR scanner. This means any older iPad Pro cases you may have won't fit the new iPad Pros. The OtterBox Defender Case is a great option to consider if you are on the lookout for a new case for the 2020 iPad Pro.
Also Read: The New 2020 iPad Pro is Here – With Magic Keyboard and Pro Cameras
OtterBox Defender Case for 2020 iPad Pro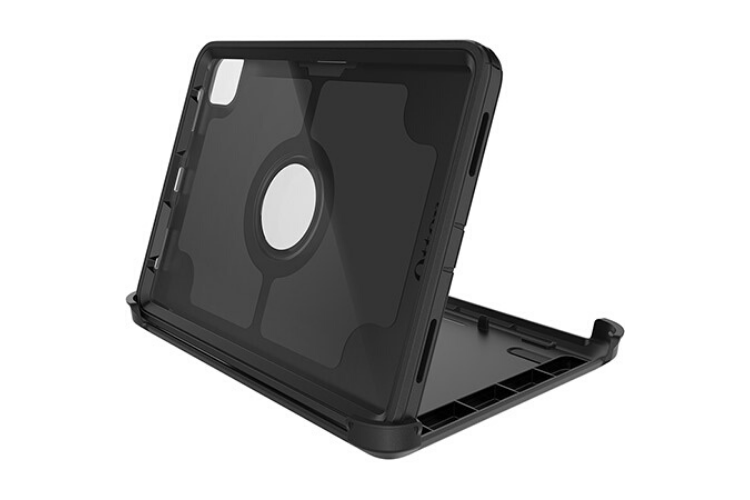 When you want solid protection for your Apple tablet, you may want a case that offers multi-layer defense. The Otterbox Defender case is one that meets that description. The case has a solid polycarbonate shell beneath a synthetic rubber slipcover. A built-in screen protector helps to safeguard your display.
The case also has a Shield stand that provides screen protection while doubling up as a stand for hands-free viewing and typing. There are port covers that keep out the dirt, dust and lint from clogging the jacks and ports.
OtterBox Defender Key Features
Multi-layer defense protection
Built-in screen protector
Port covers to keep off dirt, dust and lint
Shield stand for additional screen protection; can also be used for typing and hands-free viewing
Limited lifetime warranty
The Defender Case for iPad Pro is available only in one color – black. You'll need to shell out $89.95 for the 11-inch model and $129.95 for the 12.9-inch model of the case.
Would you consider buying the Otterbox Defender case for the iPad Pro?
Note: When you purchase something on our website after clicking links in our articles, we may earn a small commission. Read our affiliate link policy for more details.