For those of us receiving tons of email messages everyday, organizing them into meaningful parts for retrieval later on is a bit of a pain. Searching for a specific email within all theses folders is an even more horrifying task. Outlook 2010 has an interesting feature that simplifies the search for a particular message. In this Outlook 2010 tutorial you will learn how to find messages instantly using the Outlook 2010 search folder.
The Search Folder in Outlook 2010 allows you to check for messages that meet specific search criteria with the latest updates to the search included.  It also allows you to save your search results as Search Folders. This means that you can view up-to-date search results at any time. The Search folder does not transfer the email from another location but merely displays the email in the Search folder.
The message in your Inbox is stored in only one location, but it might appear in multiple Search Folders. Deleting a message in a Search Folder results in the deletion of the message in the folder in which it is stored. So you have to be careful about deleting or modifying the contents of your Search folders.
How to Create a Search Folder and Find Messages Instantly
1. Display your Inbox.
2. On the Folder tab, in the New group, click New Search Folder.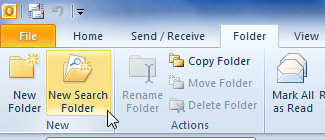 3. In the New Search Folder dialog box, select the type of Search Folder you want to create. You can choose from a number of options such as unread mail, flagged mail, important mail and so on and then click OK.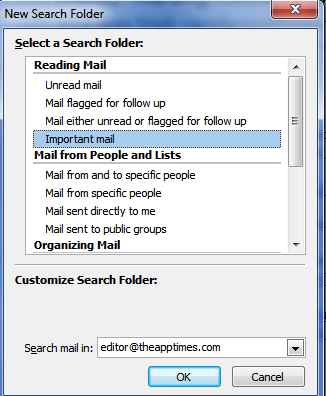 4. If you need to search using a criteria that's not readily available, you can select the Create a custom Search Folder option and specify your search criteria.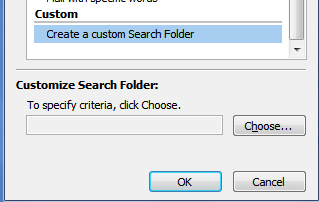 You'll find the Search folder at the bottom of your email account in the Navigation pane. The Search Folder is constantly updated, but you'll need to refresh it to see the updated results.
Search Folders are a very useful tool to organize your messages, so if you haven't given it a try as yet, do it now and don't forget to share your thoughts with us.
If you found this tutorial useful, be sure to visit the Outlook Archives for more useful tips and tutorials.