Are you a runner or someone training for a big race? Then, check out Brian Kinsella's Running Calculator app on the Play Store. Running Calculator is designed to perform a ton of different calculations that runners will find value in. For instance, you can determine how long an upcoming run might take or compare your timings against other runners your age and gender. Here's a closer look at what Running Calculator can do.
Running Calculator App Features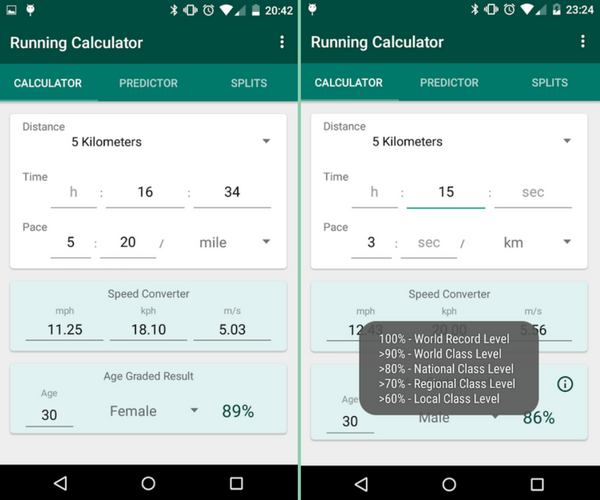 The Running Calculator does its computation by taking into account your pace, speed, distance and time taken. All the other fields in the app are automatically updated to project the pace timings.
The app supports standard running race distances for events like 5k, 10k, 15k, half marathons, and marathons. You can also enter custom distances if that's what you want. The distances are available in miles as well as kilometers. The speed fields are also customizable. You can choose in kilometers per hour, miles per hour or meters per second. This is particularly useful if you run on a treadmill and wish to analyze your run.
Age Performance
Apart from pace and speed timings, the app also shows age graded performance for 5k, 10k, half marathon and marathon runs. This is computed taking into account your run times compared to the best time on record for your age and gender.
Projections
The app also offers projections for future runs. Let's say you want to compete in another race with a different distance. Based on your training times, you can project or estimate the predicted finish time at that distance. This will help you decide if you are competitive in that race distance or if you need to up your training.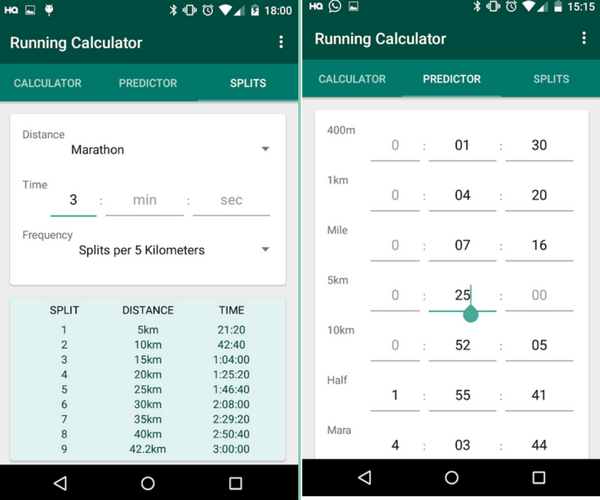 Race Splits
The last thing you can do with the Running Calculator is plan for your next race using the racing splits screen. All you need to do is pick a race distance, enter your time and you can see the splits you need to hit for that time. This feature assumes you run an even pace. Again this section is customizable so you can see the data in kilometer, mile, per 400m, per 5 kilometer or per 5 miles.
Also Read: Develop Your Health and Fitness Habits with Today Habit Tracker for iOS
Extras
Apart from the features I outlined above, you can do some extra calculations like converting between minutes per mile, minutes per kilometer and minutes per 400m by modifying the pace field. You can also convert between miles and kilometers and scale your race time to another distance by modifying the distance field.
The app also lets you save your preferences and customizations so you don't have to enter the same details over and over again.
If you are a runner, Running Calculator will give you all the necessary info and stats you need to keep track of your runs. The app is available on Google Play for $0.99. There are no ads or further IAPS in the app.
Download Link: Google Play Store
Check out Running Calculator and tell us what you think of the app.
Cheers,
Adeline