The popularity of accessing Facebook on mobile devices means that you can gossip and share just about anything on the social network even when you are on the go. Naturally, one of the coolest things to do on Facebook is to upload photos and share them with your Facebook contacts. While this was more cumbersome earlier, now, with the launch of the Facebook Camera App for iOS devices, sharing these photos is easier and faster. If you have an iPhone, an iPad or an iTouch device, get your copy of the Facebook Camera App now.
Features of the Facebook Camera App
The Facebook Camera App, although not as cool as Instagram lets you do quite a lot of stuff.
Share photos
Edit photos
Add locations to photos
Tag friends in photos
Delete photos
Like or comment on photos
Decide who can see a photo
View photos as an album
Expand photos
Apply filters
Upload multiple photos
Create a news feed of all your friend's photos; just to name a few.
Batch uploading of photos is going to be the most popular feature of the Facebook Camera App. Yet another new and interesting feature that is sure to be appreciated by users is the ability to browse friend's photos by setting up a news feed.
How the Facebook Camera App Works
Unfortunately, if you want to avail of these cool features, you have to use this separate app, and then switch back to the regular Facebook app for textual status updates.
Login to the Facebook Camera App with your Facebook credentials. If you have already logged in to the Facebook mobile app, you will be asked to continue as that user. You will also need to grant permission for geo-location services. If you don't allow access to this, you will not be able to access the Camera Roll, so its less of an option really, and you will do well to grant permission to avoid problems later on.
After you are signed in, the screen will display a top section that holds a Camera icon and thumbnail images of the photos in your Camera Roll. The bottom section features a news feed with your friends photos with captions and comments.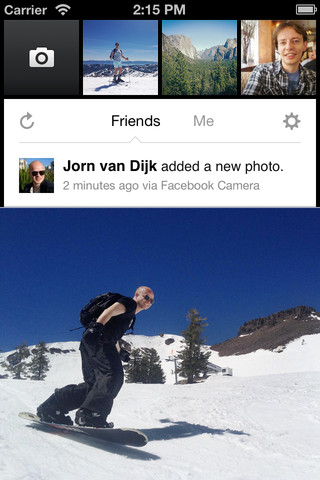 The images in the feed may not sometimes be fully visible. You need to tap and swipe to view them as complete images. Similarly, grouped images should be swiped horizontally to view them in their entirety.
The latest photos uploaded to Facebook will not be automatically visible in your feed. You'll need to hit the Refresh button below the Camera icon to view them.
As you scroll down the feed the top section disappears, but you can revive it anytime by tapping the top of the screen.
Clicking the Camera icon activates the camera so you can take pictures. To post the images on Facebook, tap the check mark, click Compose, enter the desired text, and then post it to Facebook. You can upload up to 30 images at a time. Editing the pictures you've taken is easy. Click the image, then zoom in, rotate, and apply filters to edit the image. There are 14 filters which you can access using the Wand icon.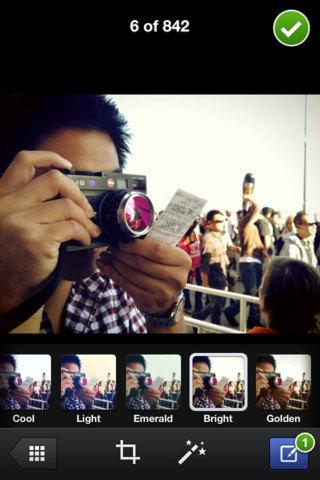 You can then add captions, tags, and comments by tapping the bright blue Compose button at the bottom of the screen. You can add more photos by tapping the + option on the Compose screen.
Once all editorial changes are complete, you are ready to post your images to Facebook.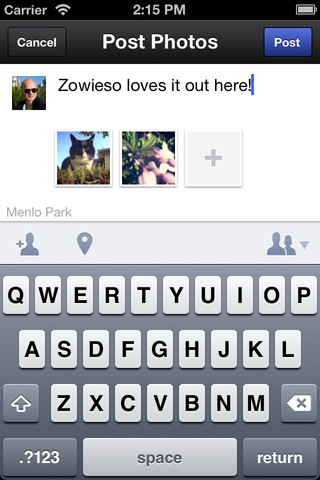 It does seem odd that Facebook would buy rival app Instagram for a ridiculous amount of money, and then launch the Facebook Camera app, which doesn't add better value to Facebook mobile users, than Instagram does.
Only time will tell if Facebook Camera App aims to spell Instagram's doom or not. Meanwhile, if you are curious to try the Facebook Camera App, here's the link to the iTunes Store.
Download Facebook Camera App from iTunes
Follow us on Twitter, Facebook or Google +to get the latest tutorials, updates and how-to articles on Microsoft, Google and Apple products.