If you are an athlete or a big fitness enthusiast training for a marathon, you'll want a smartwatch that complements your lifestyle. Finnish giants, Suunto, makers of sports watches, sports instruments, compasses and precision instruments are set to launch their latest smartwatch the Suunto 9 on June 26th. The highlight of this smartwatch is the battery life, which is pegged at 120 hours in Ultra mode. Read on to learn more about Suunto 9 and how this is going to improve tracking your vigorous outdoor activities.
Eye Catching Features of Suunto 9 Smartwatch
25 hours battery life in Performance mode; up to 120 hours in Ultra mode
Intelligent battery technology with smart charging reminders
FusedTrack™  for improved track and distance accuracy
GPS Navigation
Over 80 Sports modes
Wrist HR
Water resistant up to 100m
Weather functions
Battery Life in Suunto 9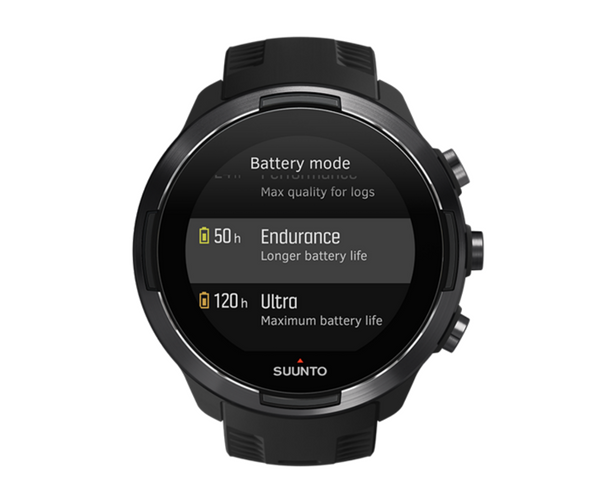 The highlight of the Suunto 9 is its battery life and that depends on its battery modes — Performance, Endurance, and Ultra. Depending on the mode you choose, you can get between 25 and 120 hours of battery life with GPS tracking turned on.
When you start a tracking session, you'll get an estimate of how much battery life you have left in the current mode. Depending on the estimate, you can choose whether you need to switch to another mode at any time.
Smart Charging Reminders
Suunto 9 also delivers smart charging reminders to ensure that you have full charge before your next outing. If you are running low on battery in one mode, the watch will suggest switching to another mode that consumes less battery.
Better Tracking and Distance Accuracy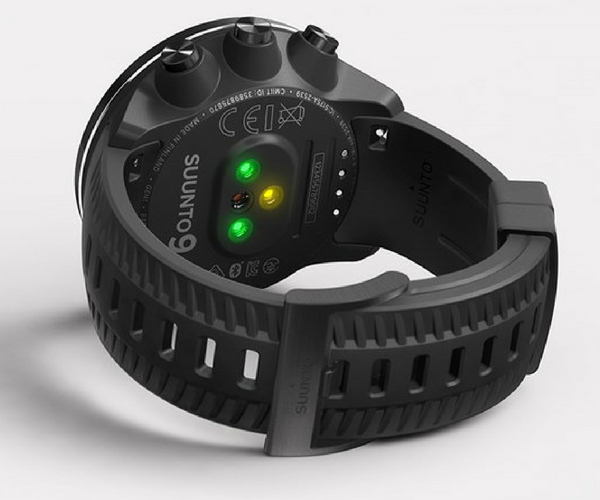 On long runs, GPS can take its toll on the battery, thereby reducing the efficacy of recording distance and track accurately. Suunto makes use of its proprietary FusedTrack™ algorithm to deliver more accurate results in such cases. This algo combines motion sensor data with GPS data for improved tracking and distance accuracy. This in turn, extends battery life by lowering GPS power without significantly compromising accuracy.
Built for Athletes
Suunto 9 is designed to meet the demands of professional athletes. It has been tested to the extreme with thousands of hours spent in tough conditions. Activity tracking includes step counter, calories burned, heart rate assisted daily calories tracking and daily minimum heart rate tracking. Sleep tracking includes duration, average HR during sleep, and wake times.
Weather Functions
Suunto 9 also provides a host of weather related information. You can see the sunrise/sunset times, sea level pressure, temperature and a host of other information.
Suunto Apps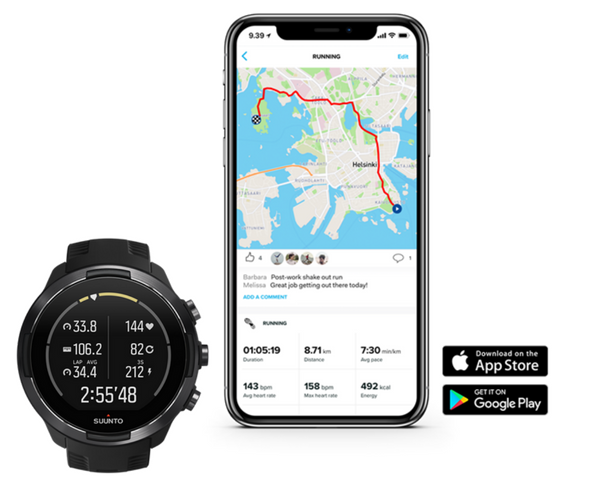 You can pair the Suunto 9 smartwatch with the new Suunto app to track all your activities and see long term trends, daily activity and sleep. If you love to share your achievements with others, the app offers a forum where you can connect with the community. Apart from training stats, you can also receive incoming call alerts, messages and notifications to your watch. Suunto app is available in the App Store and Google Play.
Extras
Apart from the above mentioned features, Suunto 9 is waterproof up to 100 meters. An LED configurable backlight allows you to adjust the brightness for visibility in different outdoor conditions.  It is compatible with popular sports communities such as Strava, MapMyFitness, and TrainingPeaks. And, it has over 80 sports modes and can track activities related to running, swimming and cycling.
Tech Specs
Weight: 81 g / 2.86 oz
Battery type: Rechargeable lithium-ion
Backlight: LED
Wrist size: 130-230 mm
Strap width: 24 mm
Display resolution: 320 x 300
Connectivity: Bluetooth Smart
Price & Availability
There's plenty to love about the Suunto 9. Its features are simply no match to its competitors. DC Rainmaker has listed all the cool stuff that Suunto does better than others and I encourage you to check it out. Long story short, if your focus is on sport and training, the Suunto 9 smartwatch is for you. If you want to do more, like with almost every other smartwatch, (use music controls, make contactless payments) this is a no-no.
Also Read: Meet JBL UA Sport Wireless Heart Rate Audio and Fitness Tracker
Suunto 9 will be available in Baro black or Baro white. It is available for pre-order for $599, with shipping starting on June 26.


Check it out and tell us what you think!
Cheers,
Adeline