It's always nice to own a smartwatch that can keep up with our active lifestyle! Chinese AI company, Mobvoi's latest launch, the Mobvoi TicWatch Pro 5 is designed to help you do just that – stay on top of your fitness goals while staying connected on the go.
At its core, the Ticwatch Pro 5 runs on a Snapdragon Wear 4100 chip, providing lightning-fast performance and smooth operation. But it's not just about speed – this watch also comes equipped with Mobvoi Health and TicExercise watch app to help you track your workouts and monitor your progress over time.
Whether you're an avid fitness enthusiast or simply looking for a convenient way to stay connected throughout the day, the Mobvoi Ticwatch Pro 5 has everything you need in a smartwatch. Let's take a look at the features, design, and performance of the TicWatch Pro 5 to help you decide if it's the right choice for you.
Mobvoi TicWatch Pro 5 Features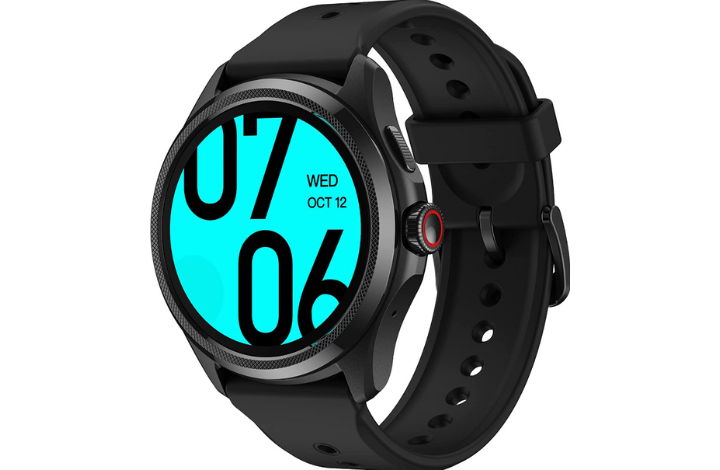 The TicWatch Pro 5 is the successor to the highly praised TicWatch Pro 3, which was released in September 2020. The new model comes with a price tag of $349, putting it in direct competition with Google's Pixel Watch. However, the TicWatch Pro 5 boasts some unique features, such as the dual-display technology and the first-ever Snapdragon W5+ Gen 1 SoC, which give it an edge over its rivals.
Design: Aesthetics and Build
The TicWatch Pro 5 sports a simple yet functional design. It is available in a single Obsidian color and features a circular face with a black silicone strap. The bezel has a shiny finish and a knurled texture on top, while the watch body has a matte finish, reducing the risk of visible scuffs. The display is protected by Corning Gorilla Glass with a fingerprint-resistant coating to keep it looking sleek.
Controls and Customization
The watch comes with a central rotating crown on the right-hand side, accompanied by a flat button with a textured surface. The rotating crown control allows for easy scrolling through notifications and apps, providing satisfying haptic feedback. The 24mm silicone strap is swappable, giving you the option to personalize the look of your TicWatch Pro 5 if desired.
Size and Comfort
Measuring 50.15x48x12.2 mm and weighing 44.35 grams, the TicWatch Pro 5 is slightly chunky but comfortable to wear. It is only available in one size, so those with smaller wrists may find it less suitable. The watch is water-resistant up to 5ATM and carries a MIL-STD-810H rating for durability, ensuring it can withstand various environmental stresses.
Display, Features, and Software
Dual-layer Display
One of the most notable features of the TicWatch Pro 5 is its 1.43-inch OLED dual-layer display with a resolution of 466×466 and a pixel density of 326ppi.
The always-on monochrome panel displays essential information such as time, date, heart rate, step count, and battery level. When interacting with the watch, the full-color OLED panel underneath comes to life, offering a bright and sharp display experience.
Performance and Operating System
Powered by the Snapdragon W5+ Gen 1 SoC, 2GB RAM, and 32GB storage, the TicWatch Pro 5 runs on Wear OS 3. This makes it compatible with a wide range of apps, such as Google Wallet, Spotify, Google Maps, and Google Home. The device delivers a smooth and snappy performance, although the difference between the TicWatch Pro 5 and its competitors like the Galaxy Watch 5 and Pixel Watch might not be as significant as expected.
Mobvoi Health App Integration
The TicWatch Pro 5 has streamlined its setup process by integrating everything into the Mobvoi Health app. This app allows you to access various health statistics and customize your watch face, tiles, and basic settings.
Furthermore, the TicWatch Pro 5 is compatible with popular fitness apps like Mobvoi Health, Google Fit, and Strava. It allows users to choose their preferred workout tracking platform. The watch can also display Google Fit metrics, although this may affect the accuracy of Mobvoi Health's step counting feature.
Fitness and Health Tracking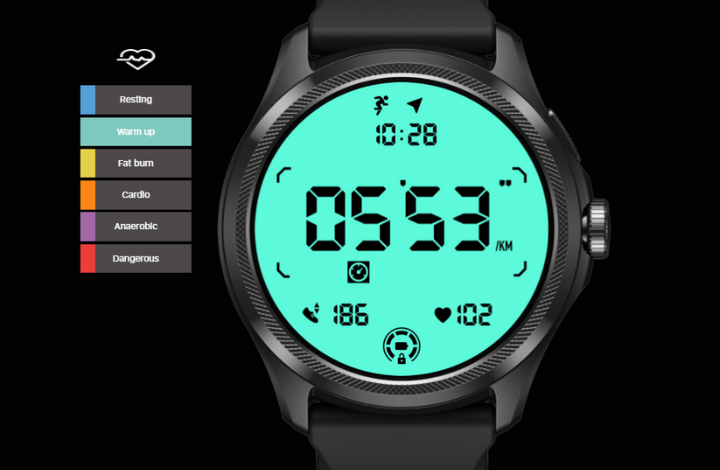 Sensors and Connectivity
The TicWatch Pro 5 is equipped with an HD PPG heart rate sensor, SpO2 sensor, skin temperature sensor, and GPS+Beidou+Glonass+Galileo+QZSS connectivity. These features provide comprehensive health and fitness tracking for users, monitoring steps, heart rate, blood oxygen saturation, respiratory rate, and stress levels.
However, the standard watch faces provided may not be as polished as those offered by competitors. Thankfully, the Wear OS platform allows you to install third-party apps for increased customization options.
Impressive Battery Life
One of the standout features of the TicWatch Pro 5 is its exceptional battery life. In the default settings, users can expect up to 4 days of battery life on a single charge. This is a significant improvement compared to other Wear OS smartwatches, such as the Pixel Watch, which struggles to last 24 hours with the always-on display enabled.
Charging Options
The TicWatch Pro 5 comes with a proprietary magnetic pogo-pin charger with a wired USB-A connector. Although it would have been ideal to have universal charging options like Qi support, the device charges relatively quickly. You can expect a 65% charge in about 30 minutes and a full charge in approximately an hour and a half.
Mobvoi TicWatch Pro 5: Tech Specs
| | |
| --- | --- |
| Aspect | TicWatch Pro 5 |
| Dimensions (mm) | 50.1(H) x 48.0(L) x 12.2(D) |
| Weight | 44.3g |
| Color | Obsidian |
| Watch Case | Metal, 7000-series aluminum and high-strength nylon with fiberglass |
| Screen | Corning Gorilla Anti-fingerprint Cover Glass |
| Watch Strap | Solid silicone (interchangeable), 24mm |
| Operating System | Wear OS 3 |
| Platform | Snapdragon® W5+ Gen 1 Wearable Platform |
| Memory | RAM: 2GB / ROM: 32GB |
| Display | 1.43″ 466×466, 326ppi, Full Color Always On Display AMOLED + Ultra-low-power Display, Corning Gorilla Anti-fingerprint Cover Glass |
| Connectivity | Bluetooth 5.2, Wi-Fi: 2.4GHz |
| GNSS | GPS+Beidou+Glonass+Galileo+QZSS |
| NFC Payments | Yes (Google Pay, 13.56MHz) |
| Speaker | Yes |
| Mic | Yes |
| Vibrator | Yes |
| PPG | Yes |
| Barometer | Yes |
| Compass | Yes |
| Sensors | Accelerometer, Gyro Sensor, HD PPG Heart Rate Sensor, SpO2 Sensor, Skin Temperature Sensor, Low Latency Off-Body Sensor, Barometer, Compass |
| Battery Capacity | 628mAh (typical) |
| Durability | 5ATM, Open Water Swim/MIL-STD-810H |
| Compatibility | Android 8.0 or newer |
| Application | Mobvoi Health |
Verdict
The Mobvoi TicWatch Pro 5 offers a superior Wear OS experience, thanks to its innovative battery optimization, smooth performance, and robust build quality. It is an excellent choice for Android users seeking a smartwatch with extensive fitness tracking capabilities and a powerful processor.
However, the smartwatch market is continuously evolving, and rumors suggest that upcoming devices like the Samsung Galaxy Watch 6 series may debut with Wear OS 4. Mobvoi's track record with timely OS updates raises some concerns, as users may find their TicWatch Pro 5 stuck on an outdated OS in the future.
Nonetheless, the TicWatch Pro 5 remains an impressive contender in the Wear OS smartwatch market and is highly recommended for those seeking a feature-rich and long-lasting smartwatch experience.
Check out the TicWatch Pro 5 on Amazon or the Mobvoi website.
FAQs
Q1. Can I manually track my workouts with the Mobvoi Ticwatch Pro 5?
Yes! The Mobvoi Ticwatch Pro 5 comes equipped with a range of workout tracking features that allow you to manually track your workouts. You can choose from a variety of different activities such as running, cycling, swimming, and more.
Q2. Does the Mobvoi Ticwatch Pro 5 come with GPS?
Yes! The Mobvoi Ticwatch Pro 5 has built-in GPS capabilities that allow you to track your location during outdoor activities such as running or cycling.
Q3. Can I customize the watch face on my Mobvoi Ticwatch Pro 5?
Absolutely! The Mobvoi Ticwatch Pro 5 allows you to choose from a wide range of different watch faces so that you can find one that suits your style and preferences.
Q4. How long does the battery last on the Mobvoi Ticwatch Pro 5?
The battery life on the Mobvoi Ticwatch Pro 5 varies depending on usage but typically lasts up to two days with regular use.
Q5. Is it possible to make calls or send texts from my Mobvoi Ticwatch Pro 5?
Yes! The Mobvoi Ticwatch Pro 5 has built-in cellular connectivity which means that you can make calls and send texts directly from your wrist without needing to take out your phone.