WWDC 2016 has thrown open plenty of exciting new stuff for iOS users to look forward to. Among other things, Tim Cook announced that the iOS 10 update is the biggest ever –  a "mother of all new releases" so to speak, with Siri becoming more powerful, great improvements to the way you use apps on your iOS device, interact with the Home screen and the lock screen and 3D Touch integration becoming deeper. Messages is another feature that is getting a huge update and so are emojis. Here is a list of all the big features in iOS 10 to look forward to later in the year.
The BIG Features in iOS 10
Messages Get Visually Appealing
If you use iMessages a lot, you'll love what's coming in iOS 10. Messages are going to get visually appealing with emojis getting 3 times bigger than before. QuickType, the predictive text feature in iOS will also offer emoji recommendations as you type. With iOS 10, you can replace certain words that you used in your message with emojis. After typing the message, press the emoji button and the app will highlight all the words that have a corresponding emoji. You can then tap on the highlighted words to replace them with the respective emojis.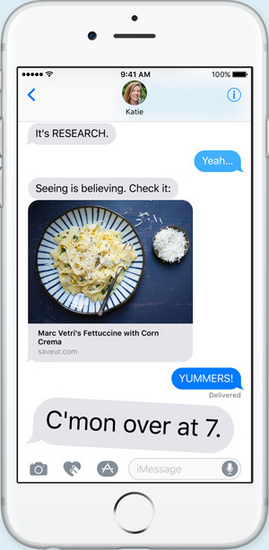 That's not all! You can expand the text size with large Bubble Effects if you like and there are some astounding special effects to use as well like fireworks bursting in the background. You can also send handwritten messages and Digital Touch interactive cards.
A new Invisible Ink feature will let you send hidden text or even photos that the recipient can swipe to view. Any URLs you send in Messages will get a visual treatment with artwork from the source site displayed along with the link. If you receive video or Apple Music links, you can play them inline without leaving the app.
Now all of these improvements are just Apple related. Third-party developers will also be able to integrate features with the messaging app.
Lockscreen Gets More Interactive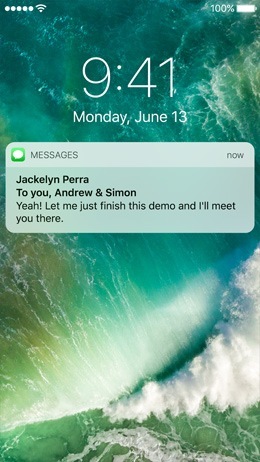 The Lockscreen in iOS 10 is set to become more engaging. You can raise your arm to wake it, respond to messages from the lockscreen itself, and even view an entire conversation without leaving the screen. Third party developers will also be able to create apps that can interact with the lockscreen so if you receive a call form a third party calling app, you will be able to see the caller's photo on the lockscreen. Finally, the Lockscreen will feature a Control Panel that will allow you to access the widgets and camera with a swipe action.
Siri Set to Become More Powerful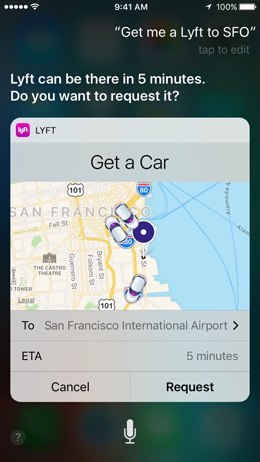 Siri will be open to third party developers, which means you can now perform Siri operations on third party apps. For instance, you can ask Siri to send a message to your friend on WeChat, or make calls via Skype, search photos on apps like Shutterfly or book a Uber ride.
QuickType Getting Smarter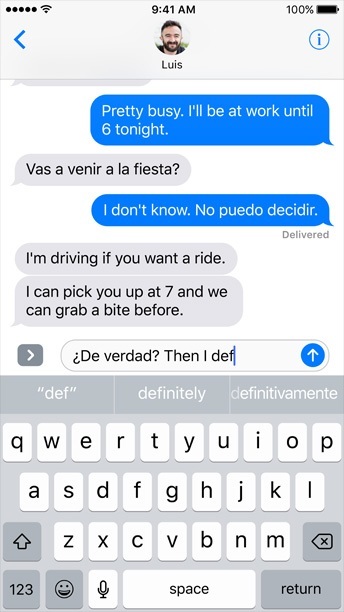 QuickType in iOS 10 is going to be a whole lot smarter, thanks to its partnership with Siri's intelligence. The predictions are expected to consider your location, recent conversations in your email or messages, as well as other apps like your calendar. Multilingual typing will also become available without you having to switch keyboards to see appropriate suggestions.
Photos App Gets a Vision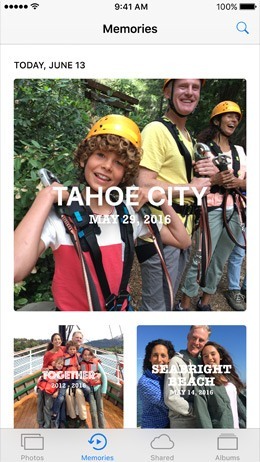 The Photos app gets a smacking new update with a feature called Advanced Computer Vision. What this means is that the app will use image recognition to identify people, places, objects, and will automatically create albums of related photos. Memories will be able to chunk photos of your past, such as a holiday you enjoyed, an event you participated and so on, so you can look back on it later.
The Photos app can even create videos with clips of related videos and photos and add music automatically to them. A slider will let you adjust the length of the memory and select a different choice of music. It is also capable of re-editing the video on the fly.
Maps Opens Doors to Developers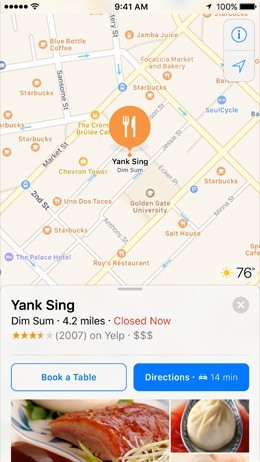 Maps is open to developers, so you can expect plenty of great options to become available through them but Apple is bringing some interesting changes on its own as well. For instance, you can swipe up from the bottom of the screen to see location based suggestions. If you're looking for a restaurant, you can slide across the bottom pane to view a list of restaurants in the area. With third party integration, there's a good chance you can make a reservation as well right from within the Maps app.
Another example would be booking a ride by picking your choice of car and watching its progress to your destination. There may even be options to pay via Apple Pay without leaving the app.
Additional useful updates to the app include extra information about your traffic route, options to zoom in and see the local traffic conditions, and look ahead for any traffic issues that may come up. Also, as you travel, if you decide to stop someplace, such as to pick up a takeaway, the app will let you know how much longer your trip will take as a result.
Apple Music Gets Lyrical
Over 15 million paid subscribers have plenty to look forward to with iOS 10's Apple Music improvements. Apple Music is set to get a refreshing new look with giant cards, bigger and bolder fonts, and an intuitive design that gives more importance to your Library with its playlists, artists, albums, songs, and downloaded music making it easier to find anything you're looking for.
The For You section is also getting a revamp with the addition of a Discover Mix section that will offer daily curated playlists personalized for your taste. You will also be able to access your recently played tunes, chart toppers and daily curated playlists. Beats1 radio will have a listen-on-demand feature and genre-based stations.
News Gets a Redesign and More Categories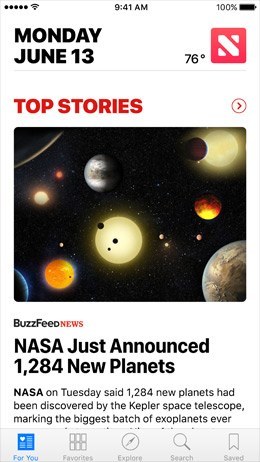 If you love reading the news via the News app, there's good news there as well. Along with a new design, the app will offer various categories of news such as top news, trending stories, sports, and featured stories. The app will also offer breaking news via notifications.
Based on your reading habits, you will also get a personalized section displaying categories related to your interests. You can also subscribe to and read publications from leading magazines.
HomeKit Gets More Control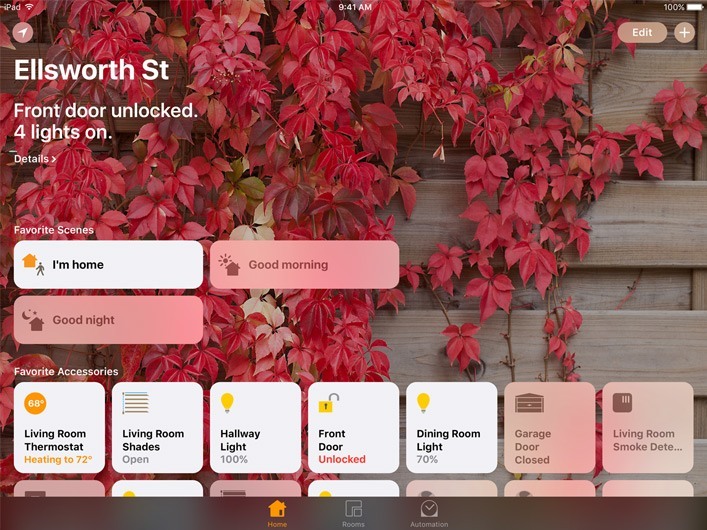 HomeKit is getting better integration and offering more control over all your HomeKit accessories. You can create and control scenes, use Siri or the Apple Watch to interact with them and even use the Control Center to see who is at the door, if you have a security camera as a HomeKit accessory.
Apple TV also gets a piece of the action as it allows you remote access to your HomeKit devices. Geofencing will also become available so that when you reach your driveway, you can set up HomeKit to automatically activate.
Phone App Improvements
In iOS 10, Voicemail improvements will allow you to receive transcripts of your voicemail messages and the Phone app will also be able to identify voicemail spam.
Again, integration is the name of the game in iOS 10 with the Phone app playing nice with other calling apps such as Skype. When you access a contact, you can decide which app you want to use to call that person. Another new feature is the ability to receive calls from other numbers, such as your work number.
Cross Device Integration
Cross-device integration is an interesting feature that lets you perform an activity on one iOS device and complete it on another. For example, you could order a pizza on your Mac and use Touch ID on your iPhone or iPad to complete the order. Continuity is what makes this possible as is the ability to cut and paste across devices with a common Clipboard.
Miscellaneous Additions
There will be a new version of the Remote app for Apple TV
The Notes app will have a collaboration feature
The Mail app will have a conversation view
iCloud Drive gets a Desktop and Documents folder
Live Photos will be editable
Live Photos gets live filters
The iPad Safari app will get a Split View
You can compose messages side by side in the Mail app on the iPad
Safari will have unlimited tabs
That's just some of the big features you can expect in iOS 10. I'll bet there are plenty more undiscovered ones that will reveal itself in the coming days and months and I look forward to bringing that to you!
Is there a specific feature that you loved in iOS 10 and look forward to using? We'd love to hear which ones caught your fancy!