We are continuing our coverage of the fresh new iOS games for November 2015 in the second part of our monthly update. If you missed the games that were launched in the first two weeks of November, check out this post. Meanwhile here are the latest additions to the App Store.
New iOS Games for November 2015
UPDATED: 11/26/2015
The Whispered World Special Edition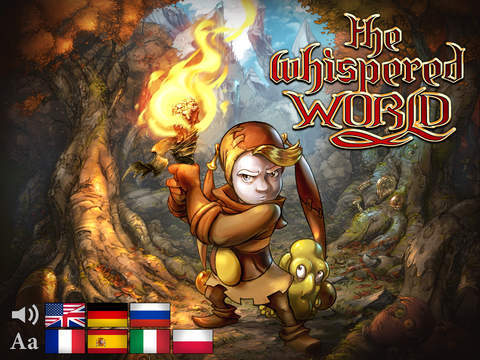 Sadwick the clown and his family travel the world with their circus. However Sadwick's life is troubled, haunted as it by nightmares, foretelling him his world will be shattered. A prophecy that might come true unless he fights it. Together with his trusty pet Spot, the happy caterpillar with amazing abilities, Sadwick goes on a great adventure to deny the prophecy from happening. Price: $9.99
Download The Whispered World Special Edition
Star Wars: Galaxy of Heroes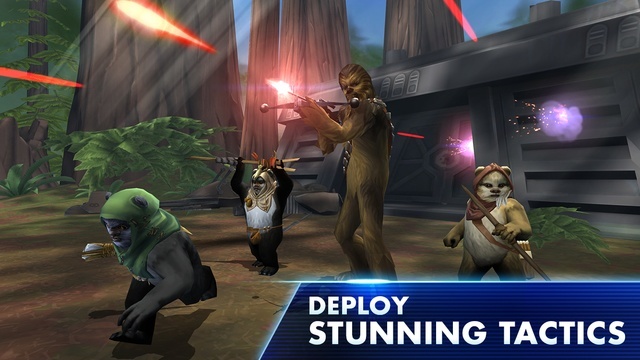 As one gamer put it, The Force is Strong With This Game! If you simply can't get enough of Star Wars, jump into this one to create the ultimate team and characters, train them, unlock special abilities, and fight in legendary locations to become the most legendary hologamer in the galaxy. Price: Free
Download Star Wars: Galaxy of Heroes
Core Archery
Core Archery brings an intuitive single touch gesture to help you draw your bow, aim and anchor the drawing arm so that you can shoot the arrow accurately. Although the technique looks easy and simple, longer distances will test your mettle. If you love playing archery, this game with smooth 3D graphics and 9 challenging levels should be worth checking out. Price: Free
Light Apprentice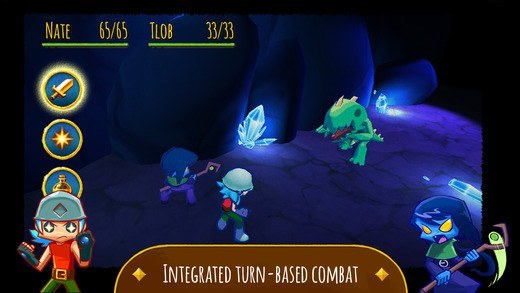 Ethenia is threatened by the corruption of the Yhrosian Empire and you are the hero Nate, a light apprentice who must rise to protect the planet and its people. This is a humor filled gamebook that features hand drawn comics and elements of JRPG.
Désiré – Prologue
Désiré is a black and white point and click adventure game where the protagonist who is color blind journeys through a black and white world meeting various characters who bring out different emotions and reactions in him, altering his vision and giving the possibility of hope that there is color at the end of the journey for him. The core concept of the game is a critique of the modern world and of the perverse and greedy nature of a consumer and a profit-obsessed society. The game contains 4 chapters, 50+ scenes, 40+ characters and loads of riddles. Price: Free
Endless Sniper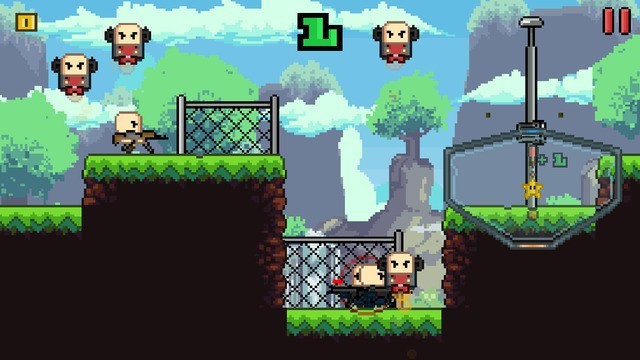 Take aim. Shoot. Score. That's pretty much what you'll be doing in the game as you play a skillful sniper tasked with taking down hordes of enemies. Colorful retro graphics, endless shooting, plenty of weapon customization options, Game Center integration are the other interesting aspects of the game. Good to play in short bursts. Price: Free
Snowboard Party 2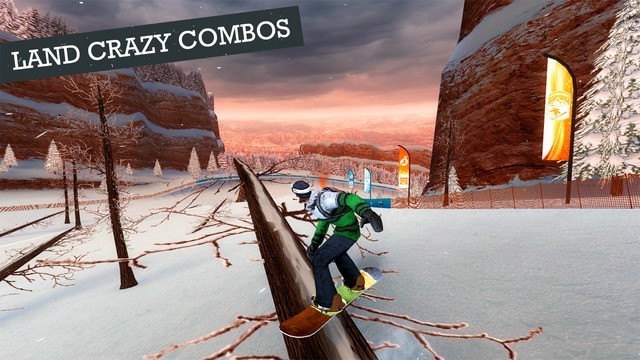 The best snowboarding game is back, this time with a new time-attack race mode and a host of other great features including online multiplayer mode, fully customizable control system, 50 unique tricks, 100's of combinations, upgrade boards, 21 courses across different continents, ability to record and share snowboard sessions, listen to songs from your own music library, Game Center support and more. Price: $1.99
Enemy Strike 2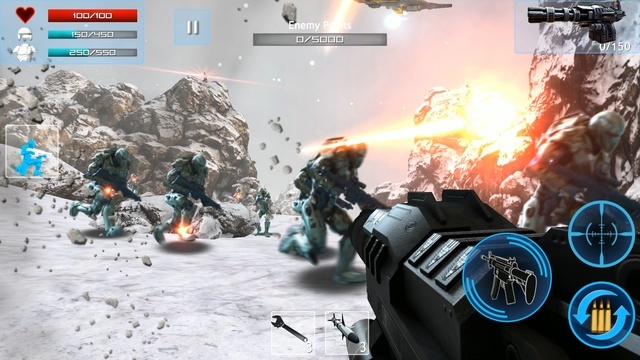 Enemy Strike 2 is all about battling powerful aliens to save the Earth. Its an action packed first person shooter game that involves use of advanced weapons and shooting skills to carry out combat missions. If you love to hunt down snipers, destroy tanks, crush elite Bosses, target and kill enemies, and shoot alien gunships, this game is for you. Price: Free
Viking Saga: Epic Adventure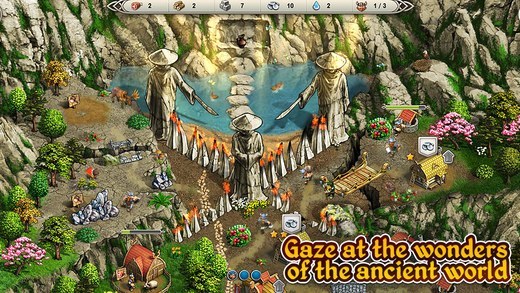 The next chapter in the fantastic action series game is here and this time Lodin challenges Ingolf to bring the legendary Stone of Destiny in order to marry his daughter and you join the hero on his quest to find the diamond. You will travel to faraway lands spread across 44 challenging levels and manage resources, build, repair, and upgrade buildings and ships; and play some mini games in between all that hard work to help Ingolf and Dala get back together. Price: $5.99
Download Viking Saga: Epic Adventure
The Exorcism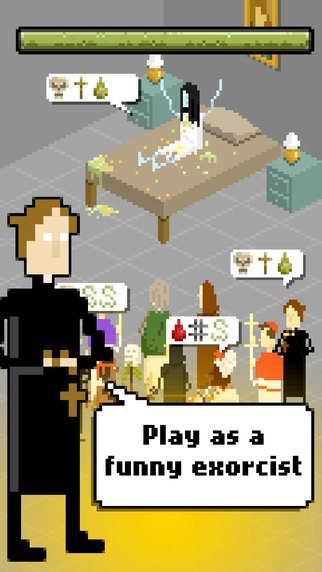 The Exorcism is a fun pixelated retro game with authentic 8bit voices and music that has you trying to exorcise the demon inside a little girl Caroline. Getting more crucifixes will enable you to unlock more game characters. And the icing on the cake? The arrival of Satan himself… to the sounds of heavy metal music! Price: Free
Travel Jump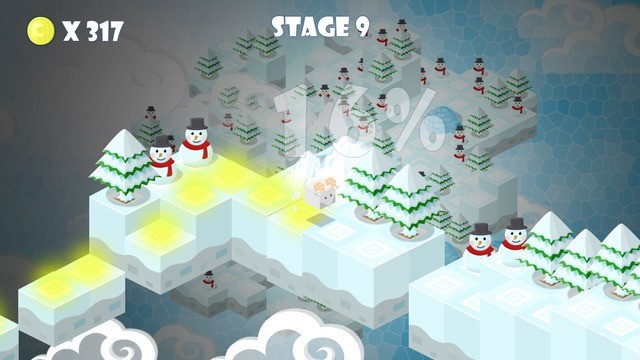 This is a fun jumping game with one tap controls and 20 stages where you collect coins to unlock new characters and jump your way to the top of the leaderboards. Price: Free
Facility 47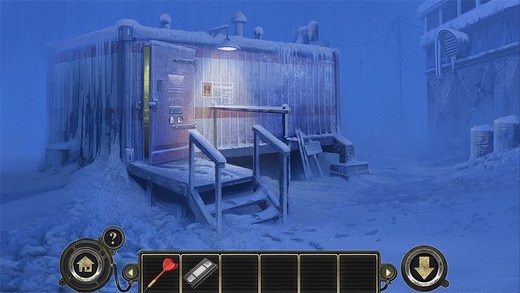 Facility 47 is a fantastic mystery game that finds you locked up in a freezing cell in the Antarctic with just a letter and a bottle of pills to help you escape. Once you escape the cell, you will find yourself in an isolated research facility where you must solve a number of puzzles to unlock new locations and find more clues that will help you discover the mystery of Facility 47 and how exactly you got there. Price: $3.99
Rush N Krush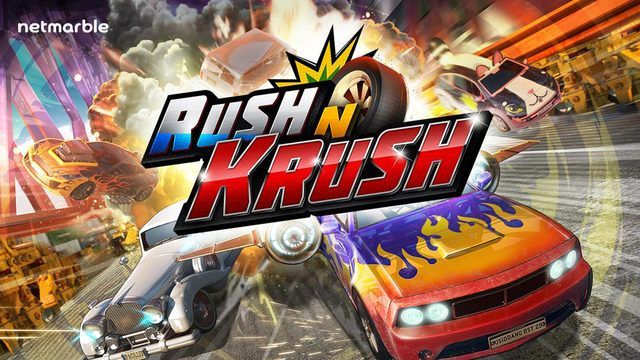 Rush N Krush is a fast paced endless racing game that has you racing past cars in heavy traffic. You draft behind cars to go faster, use boosters to smash objects out of your way and take your pick of the cars and its accessories to get the perfect combination to earn top scores. You can play solo or race against players from around the world in real time races. Price: Free
Choices: And The Sun Went Out
Tin Man Games' latest game book adventure comes in the form of an mystery game where the sun vanishes for a few hours and leaves you with the job of investigating what happened. Together with your AI companion Moti, you travel the world to uncover mysteries, discover ancient religions and find out who is murdering scientists and what this has to do with the disappearance of the sun. This gamebook adventure is an ongoing game that will be regularly updated and you will need to subscribe to the game via the app to continue playing future episodes. Interested?
Download Choices: And The Sun Went Out
Houdy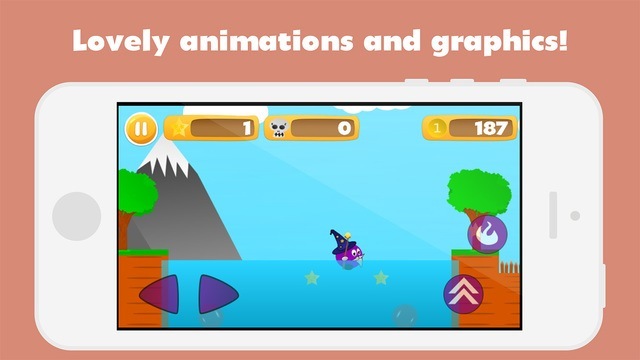 Houdy is a cute little platformer with beautiful graphics and lively animations that's fun to play any time of the day. Houdy is a magician who is skilled in the art of firecraft and parallel transportation. One day when his act goes horribly wrong, he gets trapped into his inner self or a world called Animea. There are many dangers lurking in this world, and you must help Houdy escape before its too late. Price: Free
Code of Arms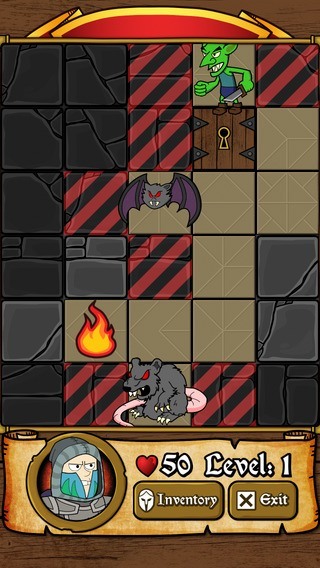 Code of Arms is a great game you can play when you are completely bored at home or when you're doing grocery shopping. Scan everyday items in your home or the supermarket to discover epic loot, unique gear and rare items and use them to equip your hero and build your deck of cards. Then explore randomly generated dungeons and duel hordes of monsters in epic card battles. Fun? Some! Price: Free
A Study in Steampunk: Choice by Gaslight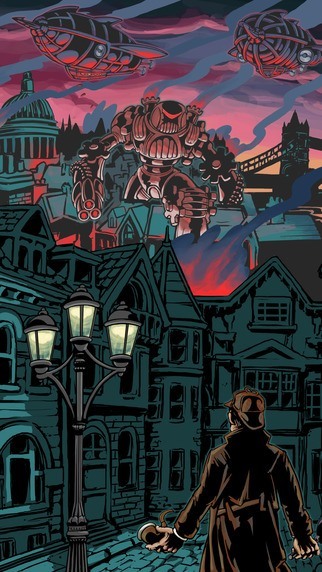 Novels are great and they are even better when turned into an interactive game. If you agree with me, then this epic game is a must play game for the month. Created by Heather Albano, co-author of Choice of Broadsides, the game takes inspiration from powerful characters such as Dracula, Jack the Ripper, and Sherlock Holmes and draws you into a dark, secret and dangerous world where master criminals and spies are at work along with some forbidden magic to try and overthrow the empire. Can you save the Empire from the clutches of its enemies? Find out in this complete text based game that is fueled only by your imagination. Price: $2.99
Download A Study in Steampunk: Choice by Gaslight
Alter World
Inspired by Stephen King's book – The Dark Tower, this 2D platformer takes you to an alternate universe and solve puzzles to move to the next level or between worlds. Players will enjoy the unique art style that is prevalent over the 80 enjoyable levels in the game. The game contains 10 immersive worlds with several different endings and plenty of Game Center achievements to challenge yourself. Price: $0.99
Cat Crisis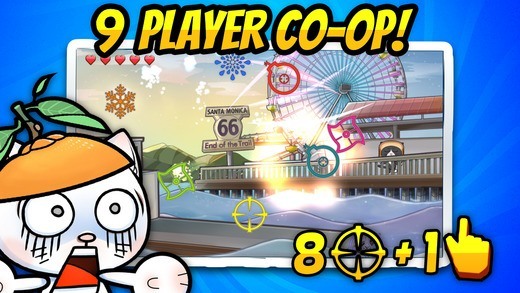 Everyone loves cats! The ones who don't can meet up to play this action packed first person shooter game. The villains of Cat Crisis are the cats themselves, who have become super intelligent and taken over all the key landmarks in the world. They are armed to the teeth, have donned special fruit helmets and appear to be invincible. The game is fun to play in Single Player mode, but it's the multiplayer mode that offers the most fun. Special features of the game include the Slo-Mo special power which gives players an extra edge against the cats. Price: Free
Into the Winds – Zen Flowers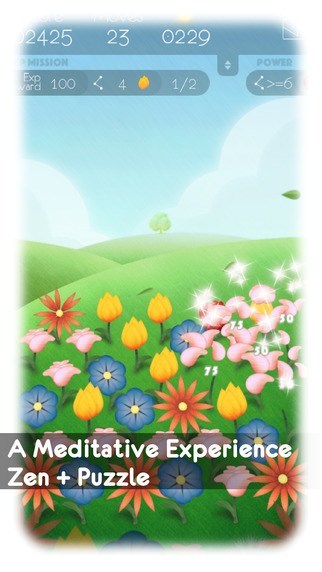 If you need a break from all the action games you've played, download Into the Winds – Zen Flowers. It's a match 3 game that actually offers a meditative experience as you watch the petals getting disbursed and being carried away by the gentle breeze. The game offers 3 modes for relaxation, 6 special flowers to unlock, mesmerizing visuals and animations and a specially crafted meditative soundtrack. Price: Free
Download Into the Winds – Zen Flowers
Earlier This Month…
Age of Hell Primus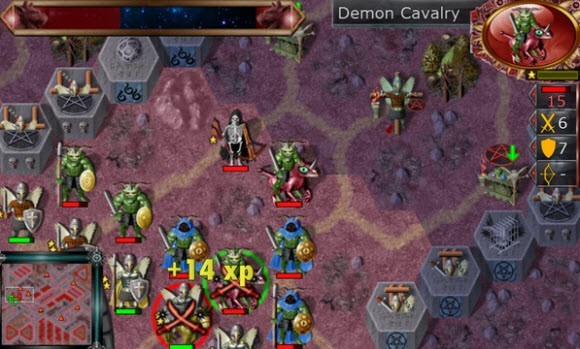 Age of Hell Primus is a turn based strategy game where you command an army of angels to close the portals of hell that has been opened by a satanic cult. You also have the task of finding some angels who have gone missing. The game unfolds as a story that is narrated by the Angel Gabriel. You can play one full scenario and 5 turns in the next one in the free version of the game. The rest can be purchased via IAP.
Amaze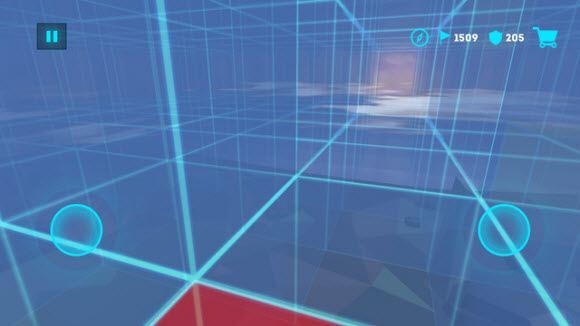 If you love finding your way out of intricate mazes, this game is for you. In the game you find yourself in the midst of huge glass mazes with dangerous enemies making it difficult for you to get out. There are over 90 mazes with multiple stories to keep you glued to the game and loads of bonuses, secret trap doors and interesting power ups to complete the challenges. Price: Free
Antyz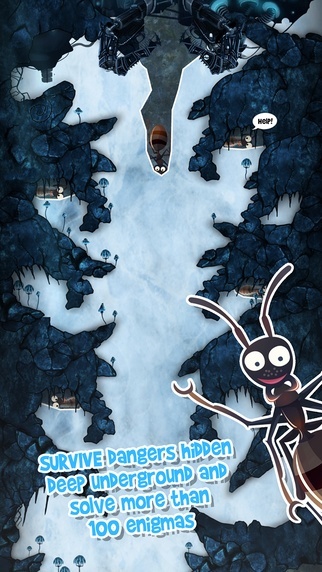 Antyz is a fun puzzle game with a time bound element. You travel back in time to the center of the earth to help an ant dig a path to overcome the dangers threatening its nest. The game has over 100 levels set in different eras and more to follow in upcoming updates. Price: Free
Bandit's Shark Showdown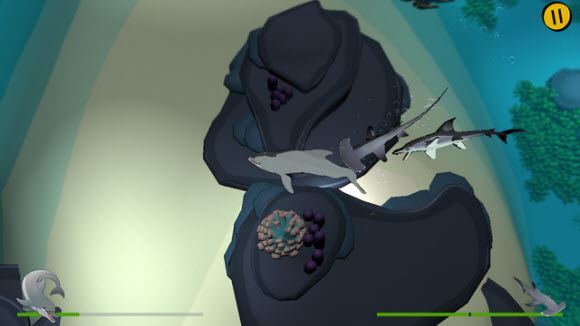 This is an underwater man versus shark showdown that has you battling for survival as a shark lunges at you in an attempt to make you his dinner. The game is a physics based game that will test your reflexes to the core as the shark is capable of studying your moves and anticipating them in advance to get you. In the battle against the shark, will you survive? Find out by clicking the link below. Price: $1.99
Download Bandit's Shark Showdown
Battle Copters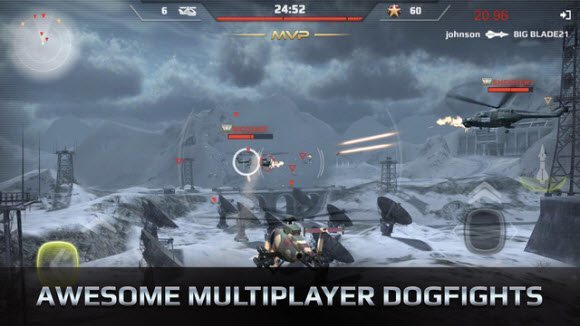 Battle Copters is Chillingo's multiplayer combat action game that has you combating opponents in a variety of copters. Other features of the game include arcade like controls, 8 player multiplayer battles, and 4 custom battle arenas. Price: Free (Includes IAPs)
Carmen Sandiego Returns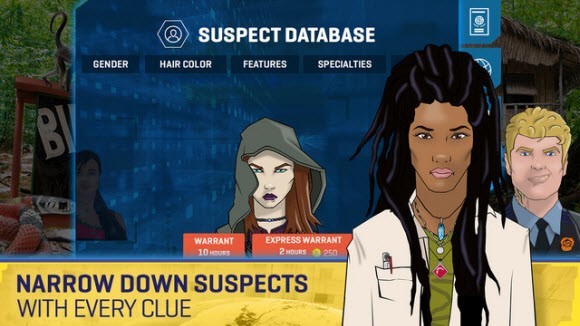 Time to catch the bad guys headed by the elusive Carmen Sandiego. You play an ACME agent who must travel the world, uncover clues and capture the wily villain and her henchmen. The game is a fun adventure game with 3 missions (more to come later) that will test your skills and knowledge of history and geography.Price: $1.99
Download Carmen Sandiego Returns
Civil War: Pea Ridge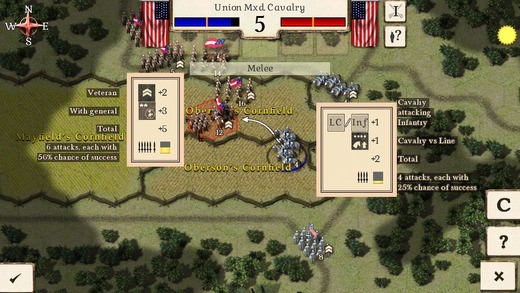 Based on the board game of the same name, Pea Ridge takes you back to the times of the American Civil War where the decisive battle of Pea Ridge was fought. This history based game lets you play on the side of the Union or the Confederate and apply tact to win the war. The game offers different types of formation options, tactical features, and 3 levels of difficulty. An ideal game to play when you're feeling patriotic. Price: $1.99
Goat Rider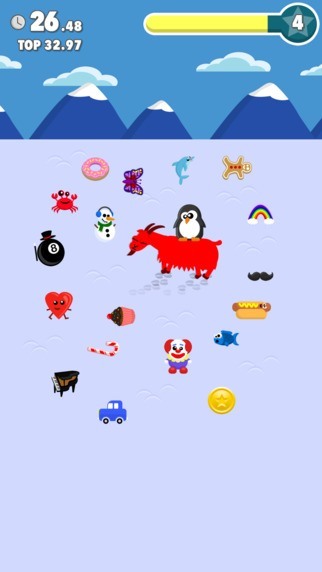 Another fun game with goats, this time, your job is to make sure you stay on the goat and don't slide off. Good luck with that! Price: Free
VAULT Heroes++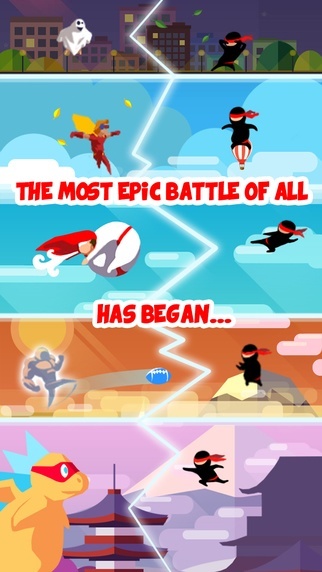 Vault Heroes++ is a platform jumper that has you competing with friends, family and other players for leaderboard glory. The aim is to go as far as you can and score the most points. pretty straightforward and good to play in short bursts. Price: Free
King Tongue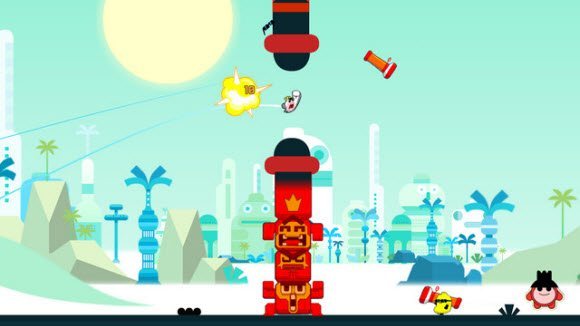 The banana king has declared war on the monkeys and thousands of bananas have come to attack the enemy. You are King Tongue, lord of the monkeys and its up to you to take on the bananas with your most powerful weapon – your tongue. Enjoy some crazy one finger antics and insane weapons like the bananazookas, bananacopters, superbananas to defeat waves of incoming banana soldiers in over 30 levels of arcade action. Price: $1.99
Last Horizon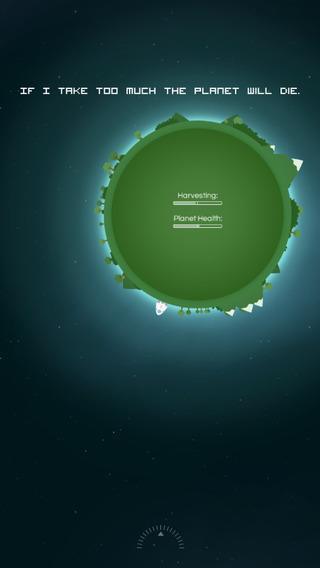 Last Horizon is a space exploration and survival game that has you piloting the last remaining vessel of a fallen civilization in search of habitable lands. Your job is to carefully land on planets, gather terraforming resources and other human survivors, micro manage resources such as fuel, oxygen & hull integrity and avoid antagonizing the sentient alien life during the journey. Price: $2.99