The AirPods are truly great earphones. But not everyone wants one. Surely, there's got to be another pair of earbuds that are a good alternative to AirPods without having any of its shortcomings. And there is. For the longest time, the Jabra Elite 65t has been touted as a great AirPods alternative and for good reason. Sure, the charging is via micro-USB, but the 65t offers the perfect balance of comfort, sound, battery life and durability and sometimes that's all we need as we go about our daily life. But in October of last year (2019), Jabra launched the Elite 75t which is a step above the award winning 65t. With 50% more battery life and a better design and fit, the Jabra Elite 75t is the next generation true wireless earbuds you might want to invest in. Here's more on what you can expect with the Jabra Elite 75t.
Jabra Elite 75t Features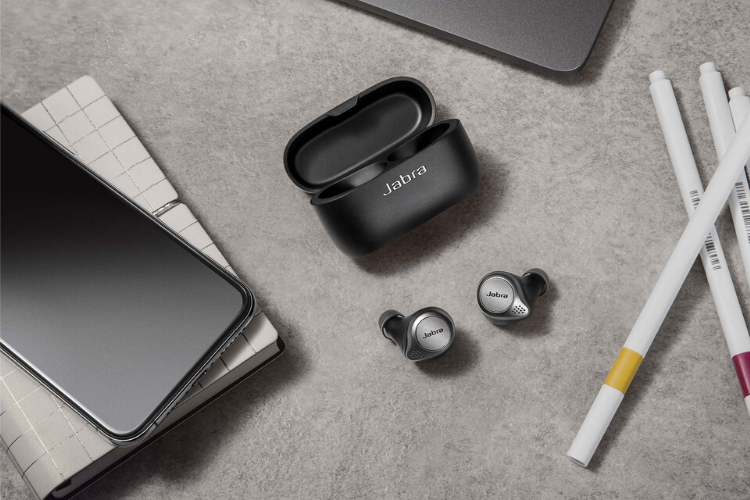 Ergonomic and Secure Fit
The Jabra Elite 75t has addressed some of the design issues on the 65t to provide a more ergonomic and secure fit for its users. It is 20% smaller than its predecessor and much more comfortable to use for people who have small ears.
Noise Cancellation
The Jabra Elite 75t comes with Passive noise cancellation, which may be a bit of a disappointment for fans of Active Noise Cancellation. Still, it delivers a superior noise-isolating fit, ensuring you enjoy great music, while still staying aware of what's happening around you.
Voice Assistants Compatibility
With just one touch of the Elite 75t, you can connect to Alexa, Siri or Google Assistant to get the information you want.
Calls
Jabra's 4-microphone call technology has been enhanced on the 75t to deliver the best-in-class audio calls, even under windy or noisy environments.
Jabra Sound+ App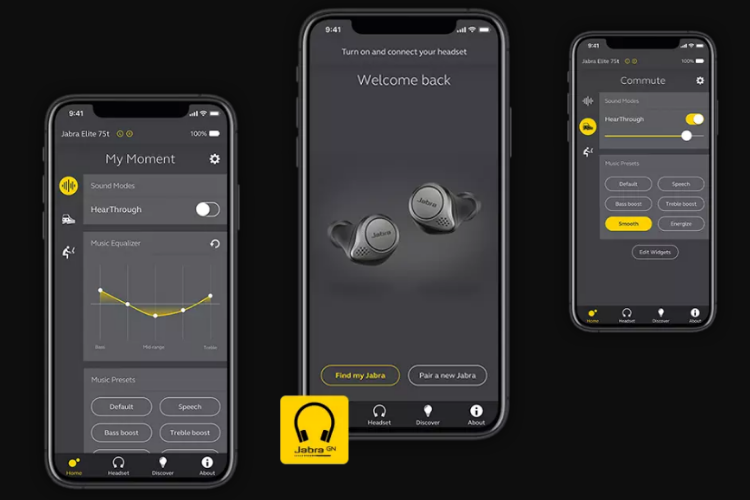 These earbuds work alongside the Jabra Sound+ app to ensure you hear audio just the way you want. The customizable equalizer in the app lets you set your levels, boost your bass, turn up the treble and manage sounds just the way you like.
Battery Life
The Jabra Elite 75t improves dramatically on the battery life compared to its predecessor. It can last up to 7.5 hours on a single charge, with the charging case carrying a total of 28 hours. Fast charging feature lets you get up to an hour of battery from just 15 minutes of charging.
Wireless Stability
With Bluetooth 5.0 technology, the 75t continues to maintain its excellent wireless connectivity signal, ensuring no audio drop outs or interruptions. Cool factor: the earbuds can seamlessly pair with up to eight devices with two active connections, making it easy to switch between them effortlessly.
Water Resistance
You still won't be able to take your Jabra Elite 75t for a swim, as the earbuds still carry an average IP55 dust and water resistance rating. But, you do get a 2-year warranty against dust and water damage.
Charging Case
A big area of improvement in the Elite 75t has to be its charging case. Gone is the fiddlesome plasticky case of the 65t. In its place is a more smaller case with a magnetic hinge that stays open when desired and shuts without a fuss.
The buds are also held in place by strong reliable magnets, so you don't have to worry about them getting dislodged when they are tossed around in your bag.
Charging
The good news when it comes to charging the Jabra Elite 75t is that it comes with USB-C charging, which is great only because its predecessor had micro-USB charging.
Controls
Gesture controls are not everyone's cup of tea. Thankfully, the 75t offers physical buttons that offer greater control over how you operate the earbuds. Each earbud has a single button and using a combination of single, double, and triple press-and-holds, you can get a lot of things done without removing your earbuds. The downside: you may take a bit of time getting need to get used to the different combos, which implies it is not the most intuitive stuff.
But, it is nice to know that auto-play/pause functionality works like a charm. Remove the earbuds and the music stops; put them back on and it starts up again.
Tech Specs
Audio: Passive noise cancellation
Eargels: 3 sizes (S, M, L)
Battery : Up to 7.5 hours with earbuds, up to 28 hours including charging case. Standby time 6 months
Charging : Full charge with dedicated USB wall charger (500mA) 2 hours and 20 mins. Fast charge up to 60 mins when charging for 15 mins in the charging case
Connectivity: Bluetooth 5.0
Operating range: Up to 10 meters (33 feet)
Paired devices : Up to 8
Dimensions : 124.2 x 187.4 x 40 mm
Weight :5.5g right earbud, 5.5g left earbud
Final Thoughts
There's a lot to love about the Jabra Elite 75t. It is well designed, is light and compact, has great sound and call quality, good battery life, and rock-solid connectivity.
When it comes to pricing, the Elite 75t is pricier than many of its competitors, like the Echo Buds – ($90 on Amazon) the Galaxy Buds ($109 on Amazon) and the Anker Soundcore Liberty 2 Pro ($150 on Amazon). But is better priced when compared to the brilliant Sony WF-1000XM3 ($200 on Amazon) and the AirPods Pro ($235 on Amazon).
The 75t isn't perfect. Issues come by way of getting used to the various control combinations and the lack of active noise cancellation, but they seem like minor issues when you take the complete package into account.  
Why Buy the Jabra Elite 75t?
Pocket friendly
Comfortable to use
Great battery life
Great sound quality
Brilliant call quality
Reliable connectivity
Great charging case
Good design and fit
With CNET stating that the Jabra Elite 75t offers better sound than the AirPods Pro, Gizmodo saying that these are the best earbuds for the money and The Wirecutter declaring them to be the best Bluetooth earbuds, you can't go wrong with the Jabra Elite 75t, if you have the dough.
Check out the Jabra Elite 75t on Amazon and see for yourself!